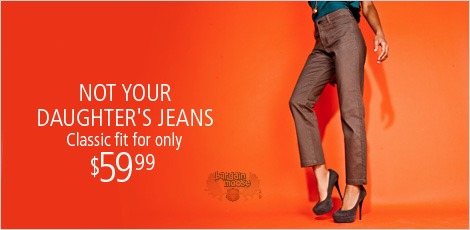 Beyond The Rack Canada has some incredibly low prices on Not Your Daughter's jeans.
Sale includes: jeans, short jeans, shorts, skirts and tops. Items will ship 2 – 3 weeks after sale ends. Offer expires on August 5th 2012.
I love the sound of these jeans, designed to make you 1 size smaller than you are. I'm down with that. These Angie Boot Leg Trouser Jeans in Denim were $169 and are now $69.99. Not only is the price awesome, but these jeans have a "Lift Tuck Technology", that reshapes you so you can look good in jeans again. I'm very excited to try these.
How about this Emma Jean Skirt in Denim that was $169, and is now $69.99. This also has the tummy control style that makes you look a size smaller. It's really quite attractive with the button closure and 5 pockets, but I guess they all look good on the models.
There are many different styles of short jeans available, but I finally settled on these Lace Cuff Cropped Jeans in White that were $149 and are now $59.99. I like the lace look on the cuff, it's attractive, but still simple.
These Five Pocket shorts in Red are a very nice colour, but they look more orange than red to me. Whatever it is, I like the colour and these were $80 now priced at $39.99, so I also like the price. The shorts also have the 5 pocket styling and button with zip fly, which is how shorts should be.
Out of the 2 tops that are available, I preferred this Sleeveless Top in Marine for $80 and now $39.99. It's actually quite elegant looking for a casual top. This would probably go well with any of the jeans being sold.
On another note, did you notice that only 3 styles of shoes were used on the models. I wonder if they have a sale on those.
Be sure to check our Beyond The Rack Invitation Codes for potential additional discounts.
Shipping: Items ship 2 -3 weeks after sale ends for $11.95
(Expiry: 5th August,2012)