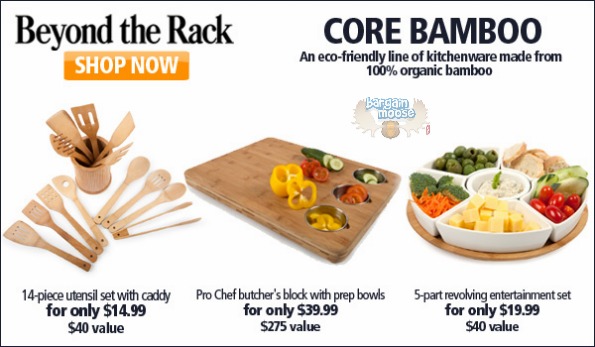 Beyond The Rack Canada has an awesome sale on all kinds of bamboo kitchenware. Sale is valid until tomorrow, August 22 2012.
The item that got my attention immediately was this Pro Chef butcher's block with prep bowls that was $275 and is now $39.99. My sons are continuously making new dips for everything and this would be perfect. I am always trying to find some sort of little bowl for them to use. This is awesome, the bowls are right there with whatever food they are preparing and would create less mess for me. Not to mention, this chop block is made from bamboo and would last forever.
Another amazing dipping wonder for us would be this French bread board with dipping bowl that was $65 and is now $19.99. It's long enough for a french bread loaf, or even sub sandwiches, or anything that would require a long, but not too wide space. Let's not forget the dipping bowl, an important feature in my home.
I do love the look of this dish rack with utensil holder in natural that was $70 and is now $24.99. My only concern would be how it would endure the constant wet dishes sitting in it.
This 2-in-1 Over the sink cutting board in one tone that was $75 and is now $24.99 is quite a unique idea. I guess this would be handy for those veggies that try to get away from you while you're preparing them. I personally have had many mushrooms try to escape, so this bowl would be handy.
A friend of mine is completely crazy about honey. Especially the pure natural honey purchased at farms. She is always heading back there for another jar. I found this Honey comb jar that would be perfect for her. It was $25 and is now $9.99. This would allow her to buy a couple bottles and empty them into this jar with easier use, because of the handle. It also keeps the jar sealed for freshness.
I love the look of bamboo, it looks so clean in a kitchen and I'm quite excited about this sale.
Shipping: $11.95
(Expiry: 22nd August 2012)