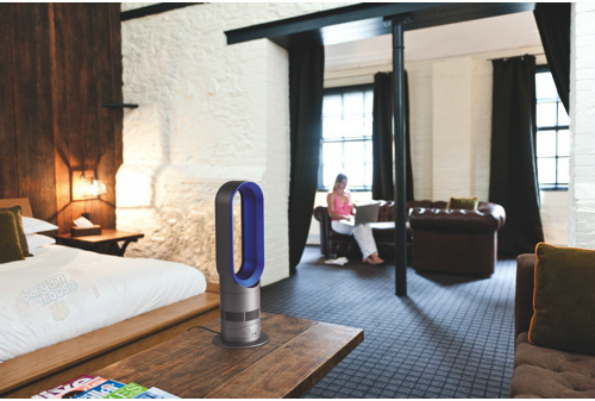 When you buy any Dyson Air Multiplier at Best Buy Canada, you will receive a pair of Sennheiser Open Wireless Headphones valued at $119.99 for free.
We have a Dyson vacuum cleaner, but I have not yet been able to justify the expense of a fan. However, if I needed another set of headphones (which I sadly do not), then I would readily jump at this offer. Pick any Dyson fan and get a free set of Sennheiser Open Wireless headphones automatically added to your cart. Fans range in price from $329.99 up to $499.99.
The headset communicates wirelessly with your device and is supposed to have reception through walls and ceilings. Enjoy up to 100 metres of range with no strings - or cords - attached. The headphones are lightweight and comfortable to wear according to Best Buy Canada, and they come with three AAA batteries. However, I suggest picking up some rechargeable batteries for the headset if you do not already have. You can read more details on the free headset here.
Personally, I would the Dyson 12" Desk Fanfor $349.99. Usually I would advocate going for the cheapest fan as your freebie is then worth a greater percentage of your product; however, the 12" fan is only $20 more than the 10" fan. I think the larger size is certainly worth the extra green bill. The iron/blue colour combination is certainly my favourite. It would look fabulous on top my new vintage dark blue steamer trunk that I picked up for a steal. I always have a fan going in my room, and the Dyson would just replace the one currently sitting on the trunk at the end of my bed.
Yet, it might be worth going with one of the more expensive models for some of the additional features. I would love to own the Dyson Hot + Cool Fanas it would serve well both summer and winter. We bought two space heaters this last winter, as space board heaters are incredibly inefficient. We cut our heating bill by at least 1/3rd with the space heaters. The Dyson hot and cold fan would be the perfect year around fan with the ability to generate heat or just throw cool air. However, it costs $499.99. At least the free headset is valued at just over 20% the value of this fan.
Receive free shipping on all orders of $20 or more. Headset is automatically added to your cart.
(Expiry: Unknown)