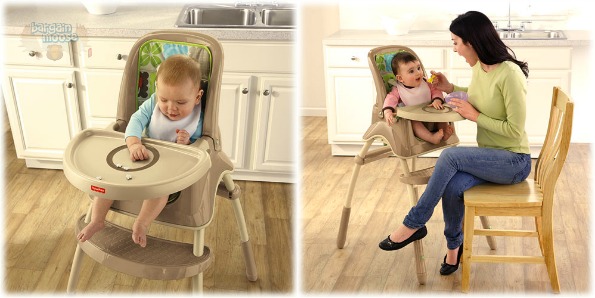 Best Buy and Future Shop have discounted the Fisher-Price Grow-with-Me High Chair from $99.99 down to $59.99. As the high chair costs over $25, the Grow-with-Me chair will ship for free to your home.
There are several different colours of this high chair, but Best Buy and Future Shop only have the brown colourway discounted. I price compared with three other stores. Walmart Canada sells this high chair for $99.97. Sears Canada has two different Fisher-Price Grow-with-Me High Chair colours priced at $99.99 each. The only place I found as good a deal as the twins (BB & FS), is at Amazon Canada where the chair is also on sale for $59.99. It is the #1 bestseller in baby high chairs right now. However, only 10 are left in stock at Amazon.
Because of the bestselling rating on Amazon, and how little stock Amazon has left, I figured this was certainly a deal worth blogging about. I know that Future Shop and Best Buy will tell you whether stock falls below 20; thus, both the retail giants have ample stock right now.
Neither Future Shop nor Best Buy had reviews for the product, so I consulted Amazon. One reviewer was quite precise in what she wanted from a high chair:
Great high chair. I bought this one because it isn't upholstered like a sofa. Seriously, what is with almost every other high chair. These things get slathered in food so I wanted one with minimal, easy to remove and wash padding. This chair is perfect for that and it is simple to use.
Other reviewers tend to like the high chair but find it narrower than others they have used. This makes the chair compact, but it can be hard to retrieve your flailing food sprinkler. Some reviewers thought it was perfect for babies, while others said it works better for toddlers.
There is an added bonus of shopping baby supplies at Future Shop and Best Buy right now. Get $25 off your next baby purchase of $50+ when you spend $100+ on baby and kids products right now. As the Baby Sale is going on, with up to 40% off baby supplies, this is an excellent time to be shopping for a new addition to the family.
(Expiry: 19th March 2015)