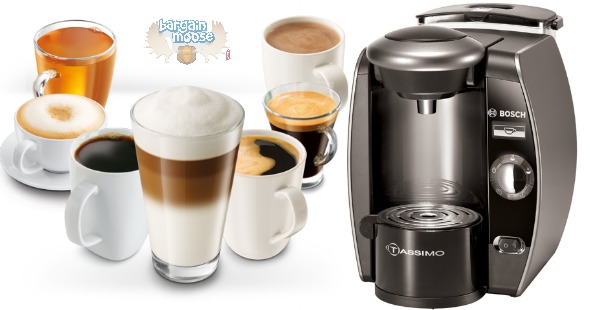 Wake up and smell the coffee, Moosers! Future Shop & Best Buy Canada have a great deal on the Bosch Tassimo T65 Single Serve Brewer right now. If you are still deciding between Keurig or Tassimo, this might help sway your decision. This Tassimo T65 Single Serve Twilight Titanium Coffee Maker would have normally cost you $169.99, but right now you will pay just $69.99. You'll even get free shipping.
The Tassimo T65 Twilight Titanium Single Serve Coffee Maker is an excellent solution if you are in need of a compact brewing unit for your counter top. For the low price of $69.99, you really won't complain. At one touch of a button you will get a perfect cup of coffee (or other beverage) every time. This particular brewer is also stylish, which makes it a great addition to your home or office. I couldn't be more thankful for my Tassimo brewer. All I have to do is insert my desired flavour T-Disc and press the button. Just be sure to press the "plus" button to add more if you have a larger cup.
To make sure you are getting the best price around, I did a little price comparison. Walmart.ca has this Tassimo T65 brewer for $79 but it is already sold out. Sears.ca also has this brewer for $179.99. This price seems to be a little inflated though seeing as Amazon.ca has this exact Tassimo brewer for only $99.98 right now. Either way, the price you see at Future Shop and Best Buy is the best price around.
M y only real complain in regards to the Tassimo brewers, is the lack of flavours. Compared to the Keurig, Tassimo really needs to add more flavours to their selection. I can get my favourites like Tim Hortons Coffee or French Vanilla, but there is not a wide variety of hot chocolates or other hot beverages like Keurig has. With Target's closing sales, you might be able to get some great discounts on T-Discs.
Here is a customer review on this Tassimo T65 Twilight Titanium Single Serve Coffee Maker:
The Tassimo system is way better than the Keurig one that I used for 2 years. I find all the Keurig coffees taste like plastic which the Tassimo thankfully doesn't do!

The brewer itself is great. The build quality is great, I love the look of the brewer too. The reservoir is great and very convenient to have, the setup for the brewer is very easy. So far I've made lots of different types of brewed coffees, espressos, tea and chai latte. I haven't tried hot chocolate yet.
Whether you snag this deal at BestBuy.ca or FutureShop.ca, you will enjoy free shipping either way. Both retailers offer free standard shipping on orders over $25 after discounts.
(Expiry: Unknown)