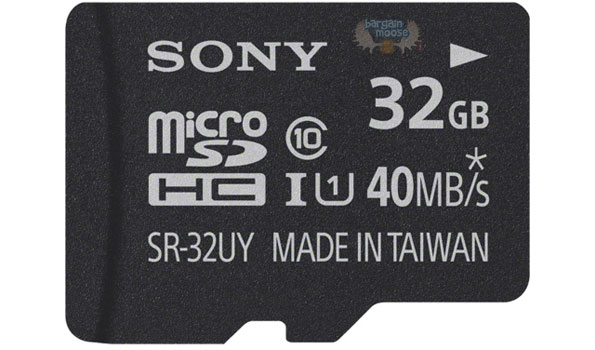 Need a memory card or two? Then grab yourself a couple of Sony 32GB micro SDHC class 10 memory cards at either Best Buy or Future Shop as they are going for $17.99 (reg. $$32.99) apiece -- that's $15 off. Quantities are limited, so don't miss this awesome deal!
This Sony 32GB memory card features transfer speeds of up to 40MBs and comes with a microSD adapter for use in full-size SD card slots. It's also waterproof but I don't suggest you make it a habit of submerging it in water. :P
As a class 10, this memory card is best suited for full HD images, HD video recording and continuous shooting. In short, it's great to use in cameras, phones, tablets, dash cameras and just about anywhere else!
Arguably, the Adata 32GB Premier memory card is cheaper at NCIX as it's on sale for $14.99 (reg. $29.98) but it isn't as fast as the Sony one. While the Adata has a maximum read speed of 30 MBps, the Sony's one is 40MBps. Plus, Sony is just a better known brand than Adata.
There are no reviews for it on Best Buy's site, but at Future Shop, there are actually 3 reviews with 5/5 stars each! Here's what one reviewer had to say about the Sony 32GB memory card:
Transfers my movies in less than a minute. I bought it for my Dell venue 8 pro tablet and it works great. It's just amazing how much stuff you can store on a tiny piece of plastic. I got it on sale but it's worth every penny.
Speaking of storing large amounts of data on a small piece of plastic, the 64GB of this Sony memory car, which was on sale for $42.99 (reg. $74.99)is actually already sold out at both stores, so you can just imagine how fast the 32GB might sell out! Keep in mind that some devices have a 32GB internal storage cap, so make sure to read the manual first.
Shipping is only free on orders over $25, so you will either need to get a filler item or you can also reserve at your local store while supplies last.
(Expiry: 12th March 2015)