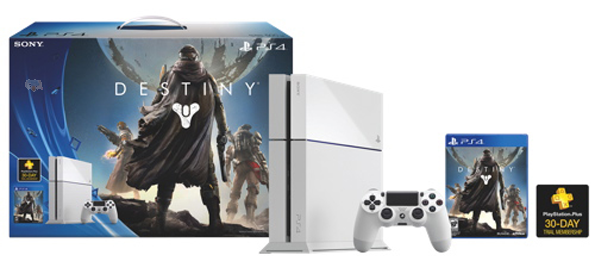 Hey there, Bargainmoosers! Best Buy is currently having a really sweet sale on their Sony PS4 systems - you can now purchase a White PS4 500GB Destiny Bundle and get a free $49.99 to $69.99 game of your choice! This is a $539.99 value, but you'll be getting all this for $479.99! You'll also qualify for free shipping - whooo!
Now that we're gearing up for the holiday season, the deals for video game systems like the Sony PS4 will be spicy, and this is certainly one of those enticing bargains. You're essentially getting a free PS4 game (you just pay an extra $10 on top of the typical PS4 Destiny bundle price of $469.99), and I'm not talking about older, outdated games from last year - you can choose any PS4 game that you want that's from $49.99 to $69.99! Plus, you'll also be getting the much-hyped Destiny game with your PS4 system, which was just released back in September!
All you need to do to enjoy this discount is add the PS4 500GB Destiny Bundle to your cart, then choose a PS4 game that's priced between $49.99 and $69.99. The discount will then be automatically applied when you're checking out.
This is a cool deal. There are many great newer games that you can choose from, like Diablo III ($54.99) and NHL 15 ($69.99). You can check out some other great PS4 games that you can choose from by clicking here.
If you wanted to buy the PS4 500GB Destiny Bundle at The Source or Amazon, you'd be paying $469.99, and you wouldn't be getting any extra games to choose from. Here's a brief review of this PS4 system from a satisfied Best Buy customer:
Good value in this bundle. Destiny is awesome. My PS4 is awesome.
Get this while they're still in stock! Happy gaming, my fellow deal hunters!
(Expiry: 6th November 2014)