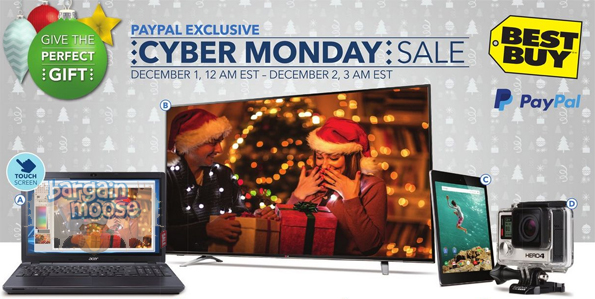 This is something I've not seen before… a Paypal sponsored Cyber Monday flyer from Best BuyCanada! All of the deals therein can be activated by using a special coupon code and paying via paypal.
Click here to shop online @ Best Buy Canada
Coupon Code: BBY-PAYPAL
Discount: activates deals in flyer
Expiry: 2nd December 3am EST
The actual deals in the flyer are due to commence at midnight tonight, at the start of the 1st of December 2014. Here are a few worthwhile deals that I found while flipping through the flyer.
Save $150 on an Acer laptop with a 15.6" screen, 1 TB hard drive, 8GB of memory, and an Intel Pentium N3530 processor. This laptop is loaded and you can purchase it for just $449.99. Only 300 units are available.
Save $50 on the Dell Venue 8 tablet with 32GB storage, an eight-hour battery, and an eight-inch screen. This is the tablet they released just this year, so pretty fast and new. Originally $199.99, pay just $149.99.
This National Geographic indoor/outdoor wireless thermometer will be on sale for $39.99, you save $35. You not only get the temperature reading, it also tells you humidity levels and gives you the barometric pressure reading.
The Polk SurroundBar 3000 will be $100 off the originally price of $299.99. Pay just $199.99 for the 180 watts 6.5" wireless subwoofer that is easy to mount.
Some of my favourite items are just accessories or gadgets. These Marley Jammin' Revolution Headphones are an inexpensive purchase at just $29.99 on Cyber Monday, you save $20.
Perhaps my favourite offer of the flyer is this Misfit Flash Fitness and Sleep monitor. The monitor looks like a watch and measures your activity and sleep levels so you can make adjustments accordingly. This device is currently only $29.99, originally $49.99.
I am delighted with this Fujifilm Instant Photo Camera and case bundle. The case is super adorable and the entire bundle will cost you just $79.99, you save $45. While the bundle is currently out of stock, I assume they will be restocking for Cyber Monday.
On top of these great promotions, you will also get 5% cash back through Paypal as you are using Paypal checkout. All items will ship for free on orders of $25 or more.
[gallery link="file" ids="197908,197909,197910,197911,197912,197913,197914,197915,197916,197917"]