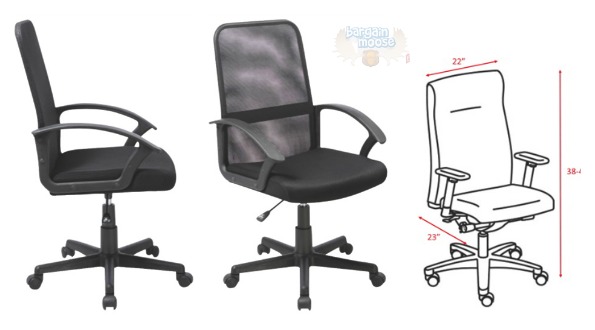 The deal of the day today at Best Buy Canada is hot. The Murphy Mesh Mid-Back Task Chair is on sale from $139.99 down to $49.99. As the chair is over the $25 minimum for free shipping, the chair will ship for free to your home. In addition, Best Buy Canada has a no tax on any furniture promotion on right now - so save an extra 5% to 12% on your order.
I found the same chair at Future Shop Canada currently priced at $139.99. Besides that, I could not really find this chair anywhere else. However, similar chairs retail for over $100 at most places. I have rarely seen a mesh back office chair for any less.
Features:
mesh back for breathability
cushioned bottom for comfort
height adjustable
comes in black to match everything
Now, the chair has fair-to-middling reviews on both Future Shop and Best Buy. I went through a bunch of them to understand why the chair is averaging 2.9/5 stars. The primarily complaint is that the seat is not comfortable enough for a long duration of sitting. However, even this is not completely agreed upon by reviewers. The most common rating is 3/5 stars. Many of the reviews are like this:
It's a chair. I assembled it, I sat on it, and it works. The wheels are fine, and it works on carpet reasonably well. Nothing spectacular about it. Only bought it when it was on sale - would not buy it at full price.
This chair was 50% off during Boxing Day (as many comments mention), but you can now score this task chair for an even better deal.
Now, here are a few things the chair is not. You cannot adjust the depth of the back and the chair does not tilt. If you are looking for those features, your chair is going to cost you a bit more. This appears just to be a nice basic desk chair.
I should pick one of these chairs up as I sit on a dining-room table chair all the time to do my work. Now, that might sound fine but after a few hours, my bottom gets sore and my back has pretty much zero support. One of these chairs would probably help my back feel better!
(Expiry: 20th February 2015)