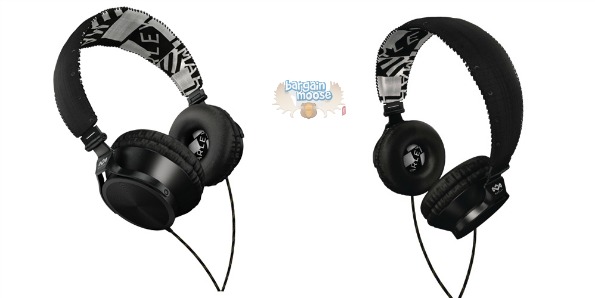 Looking for a nice pair of headphones with a very slim price? Check out the final clearance on the Marley Jammin Revolution on-ear headphones that were $19.97 and now $9.97.
Of course you can go and buy all the top lines of headphones and spend lots of money, but if you want a pair that will get you from A to B in the audio world, I think these Marley headphones are great. They look stylish with a Marley-esque design on the interior. They are also made from eco-friendly materials like recycled plastic with a recyclable aluminum housing.
Meant to be played with the bass up loud, you'll have One Love while you're Jammin' with these headphones on.
There are six reviews with a total rating of 3.5 stars out of five. While that isn't super high, I don't know what you'd expect from $10 headphones? Performance and value are rated highly while ergonomics and comfort are on the lower end. The most negative review says these broke after a few months, but the most positive reviews really like these headphones:
These headphones are pretty good. This is my first over-ear purchase in a long time and the quality is great. Being a Marley product, the first tracks I played after getting them were some Bob Marley classics!
I couldn't find these for sale in Canada, but I did find them in the States and the regular and sale prices were all much higher than Best Buy's $19.97 regular price. For example, Walmart in the U.S. sells them for over $31. Even Amazon.com has them for over $30. So, while this might seem like only a 50% off deal, it could actually be worth quite a bit more.
Free shipping happens at Best Buy when you spend $25, so you might want to see what else you can add to your cart so you don't pay shipping fees. For me, the shipping fees were $5.99. You could also stock up and get a pair or two for friends (so you all match ;)).
(Expiry: 16th April 2015)