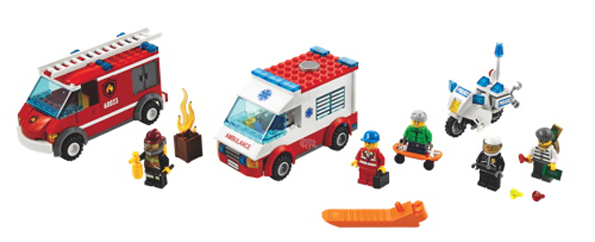 Oh hey there, my fellow deal hunters! Best Buy is currently having a decent sale on their LEGO City Town Starter Set - this set normally sells for $39.99, but for a limited time you can pick up this LEGO set for just $29.99! You'll also qualify for free shipping, which is always a nice bonus! Quantities are limited, so I recommend that you check out this sale while this deal is still available.
This LEGO City Town Starter Set could be the perfect gift for Christmas! Many kids love these building blocks that allow them to be creative, and a large number of these kids that loved LEGO continue to cherish these sets when they get older. You just can't outgrow LEGO! Its appeal is universal, and its popularity is at an all-time high (after all, The LEGO Movie starring Will Ferrell was released earlier this year, and it did some big business).
These LEGO sets hold a great amount of value, too. If you go to a flea market, Kijiji, or even Ebay, you'll see that even used LEGO sets are sold for prices that are very close to retail. This has been the case for many years, since these popular building blocks have been around for decades! This LEGO City Town Starter Set can provide you (or whoever you're purchasing this set for) with some time to unwind, relax, and turn a bunch of plastic bricks into something awesome!
If you were to purchase this LEGO City Town Starter Set atToys R Us today, it would cost you $39.99. It's also retailing for $39.86 at WalMart. I've included a brief review of this LEGO set from a satisfied WalMart customer below:
My son loves building the vehicles. Easy instructions.
I hope you all have a great day today, my fellow Bargainmoosers!
(Expiry: 27th November 2014)