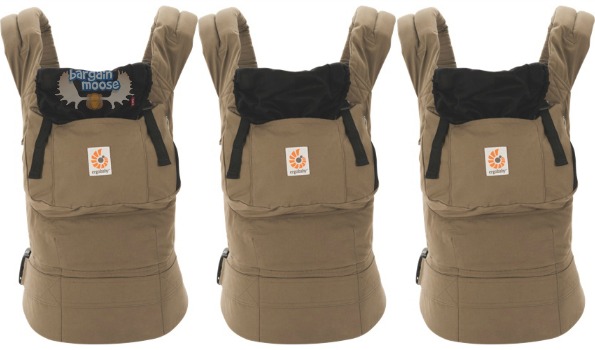 **This was on sale for $88 two days ago but sold out within two hours. For those who missed out, you can get it again now for just $2 more (but it is still very hot!). Thanks to Lenny for letting me know that it would be back on sale!**
I found a super hot deal at Best Buy that is sure to sell out! I was perusing their baby sale and saw an Ergobaby carrier for under $100, which definitely made me do a double take. I've never seen one for under $100 and this one is only $89.99, with a regular price of $145. It is only available in the Aussie/khaki in dark taupe and black.
When I think of items that are must-haves for new parents, a baby carrier is definitely on that list. But, things were easier for me because there really wasn't that much choice. Nowadays, moms have so much choice on how they want to carry their babes. When I had my younger sons, I heard Ergobaby was the way to go as it was so super comfortable and it held baby in a good position, which I assume is where the Ergo comes from and not necessarily from the definition that means poorly constructed.
I love that you can switch positions with this carrier from front to back to hip because sometimes your back or your hip needs a break! This is also important as baby gets older because there is no way a toddler wants to be in the front of you and no way you want that either!
I like the neutral colour as well, as you want Dad to have no excuse to be walking around with that baby all day too.
Reviews are favourable as well, which is super important because you want to know what other parents think too:
I loved the comfort and softness of this carrier. I could barely feel my baby's weight. The waist belt is sturdy and contoured very nicely. The only thing I wish this carrier allowed for was front carry option. The colour is also absolutely beautiful for everyday use.
I found this carrier at various other retailers with none having a price this low, like:
Shipping is going to be free as you are well over the minimum threshold.
(Expiry: unknown)