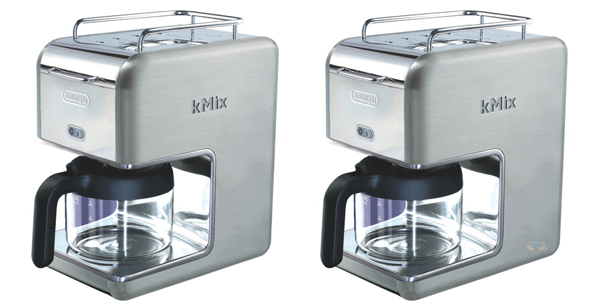 Good morning, my fellow Bargainmoosers! I'm sure many of you can use a cup of coffee right about now, which is why I decided to mention today's deal at Best Buy - they're currently having a final clearance sale on their De'Longhi kMix 5-Cup Coffee Maker for $39.97! It normally costs $119.99, so you're saving $80 off the regular price! Plus, you'll also qualify for free shipping when you order this handy kitchen appliance.
This De'Longhi kMix 5-Cup Coffee Maker  looks like a nice, sleek machine. If you like making more than one cup of coffee at a time, then this is the perfect coffee maker for you. Unlike the Tassimo and Keurig machines that can typically only prepare one cup of coffee at a time, this De'Longhi kMix 5-Cup Coffee Maker can prepare plenty of coffee for you and your significant other that you can use throughout the day.
With a stainless steel finish, this is one kitchen appliance that will look great in your home! If you'd like to learn more about this coffee machine, just click on the link above.
I love my morning coffees, so this is an intriguing deal for myself. Decisions, decisions... I already have 3 different coffee machines (Keurig, Tassimo, and Dolce Gusto), so we'll see how the figurative cookie crumbles when I'm done writing this article!
If you wanted to purchase this De'Longhi kMix 5-Cup Coffee Maker from Best Buy in America, it would cost you $149.99 US, and it's also $149.99 US on Amazon's American website. I've included a brief review of this machine from a satisfied Best Buy customer below:
Lived up to expectations. Coffee is piping hot and stays that way on the warming plate. Teas brew quickly as well and stay ready hot. Top access is easy for both filter installation and water. Would recommend to friend when on sale.
Limited quantities are available, so get this while you can! Happy hunting, Bargainmoosers!
(Expiry: 18th November 2014)