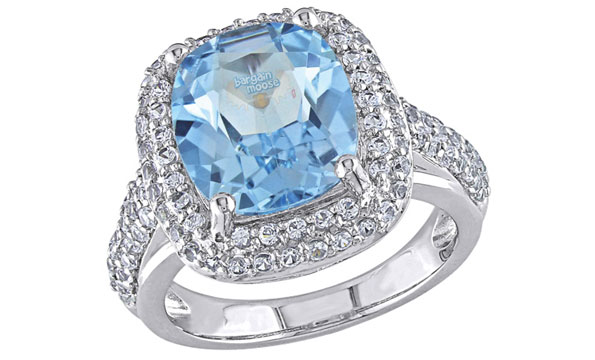 Blue topaz jewellery is on sale at Best Buy right now but only for a couple more days. You can save as much as 60% off Amour sterling silver jewellery pieces.
It seems rather odd for an electronics store to be venturing into the sale of jewellery isn't it? It's not the only department away from electronics that Best Buy has undertaken lately as they now sell plenty of baby, personal care, furniture, toy items and much more. In any case, I doubt anyone's complaining with high discounts such as this one!
There are 6 different styles of Amour blue topaz jewellery to choose from:
All of the Amour blue topaz pieces look absolutely stunning. If you're looking to get jewellery as a gift, then the pendant & earring set may be a good choice since you basically get a two-for-one deal. Both are made from polished sterling silver and a round cut blue topaz gemstone.
My favourite piece if definitely the round topaz gemstone fashion ring as I like anything with a bit of bling. Although it's only available in sizes 6, 7 or 8, you could show a picture of the ring to your local jeweller to see if they would be able to resize it if you need a different size. I'm not an expert but it definitely looks like it could be easily resized as the diamonds and gemstones only cover the top part of the ring.
Nearly all of these would also qualify for free shipping. Since Best Buy only ships orders over $25 for free, the only odd piece that wouldn't qualify for it is the round topaz gemstone pendant since it would be a mere penny away from the required threshold. You could have a look at the clearance outlet or there is also a "buy more, save more" promotion available on all personal care products right now that you can check out. You can either save 10% off the purchase of 3 items, 15% off 5 items or as much as 20% off if you buy 8 personal care items or more.
(Expiry: 6th November 2014)