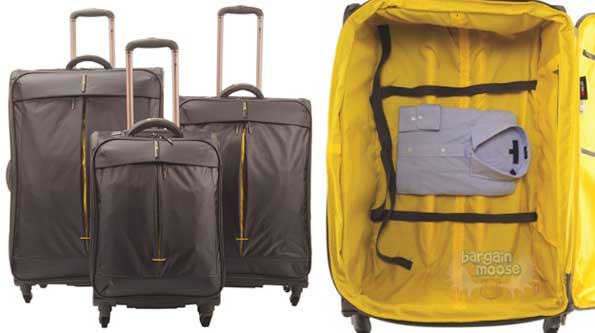 Best Buy frequently discounts luggage sets but this one is a particular hot deal because it's very lightweight. Today only, you can save $580 on the Delsey 3-pc extreme lite 4-wheeled luggage set and get it for just $199.99 (reg. $779.99). Shipping is free as well.
Usually, just one piece of Delsey luggage is sold for about $150, as you can see with the Delsey Helium Breeze at Hudson's Bay or even, the 2-pc Delsey helium extreme lite that I found at Shop.ca for $360. So the fact that you're getting 3 extremely light Delsey luggage pieces at Best Buy for a combined price of just $200 is actually pretty incredible.Not only that, but it also have a number of positive reviews, like this one:
Very well built and exterior is very durable, super light. Best luggage set I have ever owned. Delsey brand talks for itself in terms of quality and design. Got it from bestbuy on sale and it was worth paying extra [price] over swiss gear set which i had to return because of the stitches were coming off the swiss gear 28 inch upright.
All of the other reviewers absolutely love this luggage set as well, all praising it for how lightweight and durable it is. Having frequently travelled myself, I can tell you that the weight of the luggage is absolutely everything.
You want to be able to pack anything you want and not go over the airline's maximum luggage weight and the only way to do that is with lightweight luggage, but of course, it's important that it lasts you more than once, which the Delsey definitely looks like it would.
This Delsey set comes with a 28" suitcase that weighs 4.6kg, a 24" that weighs 4kg and a 19" one that weighs 3.4kg.
The best part about getting it as Best Buy is that shipping is free. So it will be delivered straight to your door, without you having to pick it up anywhere. Luggage set deals like these tend to sell out very quickly at Best Buy, so if you want it, don't hesitate to get it!
(Expiry: 13th September 2015)