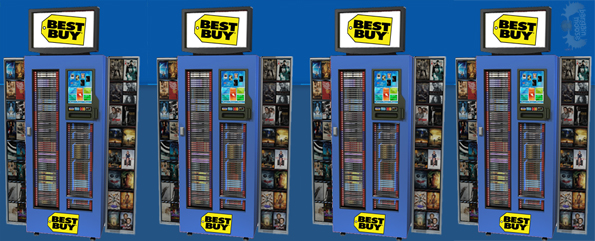 My friend just forwarded me a great email from Best Buy Canada, with a promo code for 5 free movie rentals from the Best Buy movie kiosks!
Click here to check for Best Buy kiosks near you
Promocode: RZFREE
Discount: 5 free movie rentals
Expires: 15th February 2012
You can get either DVD or blu-ray movie rentals with this free coupon. I believe the Best Buy movie kiosks are mainly in Western Canada, so this deal will only apply to the Moosers there.
I don't really like copy and pasting a load of information, but it seems to be the best way to show you all the details about this deal:
How to get your 5 free movie rentals:
Simply visit a Best Buy Movie Kiosk conveniently located at select Mac's and Canadian 7-Eleven stores, enter your exclusive Reward Zone member-only code in the machine, follow the simple steps, and you're done.
Coupon Instructions
Select your movie, click "next" then "rent"
Select "Coupon"
Enter the promo code (RZFREE), click "ok" and then "ok" again on the next screen.
Scan Credit Card
There you have it! You don't need a Best Buy rewards card, just the above details and your credit card. They only need the credit card in case you bring back the movies late, or run off with the movies!