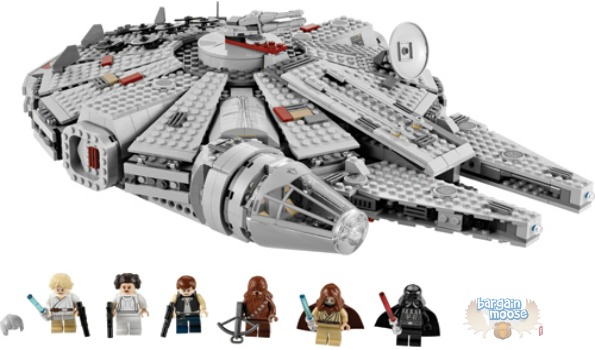 Best Buy Canada has 20% off LEGO right now. Best Buy didn't seem to be the cheapest place to buy LEGO, but with the 20% off I couldn't find any other Canadian online retailer with prices as low.
My kids love LEGO, although they are at the stage when they like it better if Dad puts it together and they just play with it. My son recently had some minor surgery and has to stay home from school for a while so we bought him a giant set to put together while he was resting. Of course my middle son was not impressed that he didn't get a new LEGO set, even though we told him he'd have to trade his tonsils for it. He was more than willing, so off we went to purchase another set. I wish I knew about this sale a few days ago. It does look like things are selling out quick so get what you can while it is still available. Note that discounted prices show up in the cart.
Star Wars LEGO is their favourite and the Millennium Falcon is so cool. Get it for only $143.18, regularly $178.98.
LEGO friends is really cute and I love this Olivia's Newborn Foal for only $10.39, regularly $12.99.
Duplo is great for the youngest kids and I was told by several teachers it really helps to strengthen fine motor skills. My First Zoo is great for toddlers. Get it for only $23.99, regularly $29.99.
Get same day free shipping on orders over $20.
(Expiry: Unknown)