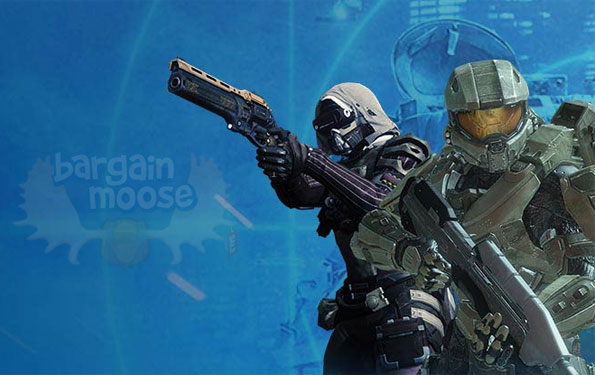 Discounts on newly released games are somewhat rare but Moosers, here's your chance to save 20%! Until Thursday, head over to either Best Buy or Amazon to save 20% on the pre-order of two or more video games as part of E3's special pre-order deal. This offer is only available online.
Best Buy
If you decide to pre-order games at Best Buy, keep in mind that you need to be a Reward Zone member in order to be able to take advantage of this offer. On the bright side, I'm sure many of you already are subscribed, but if you're not, just click on the second link above to become a member for free. It only takes a couple of seconds of filling out the necessary information (one minute tops).
Once you have either registered or entered your Reward Zone membership information, then a unique promotional code will be e-mail to you. You can then use it at checkout to get your 20% discount on the pre-order of two or more games.
Amazon
If you prefer to shop at Amazon, then you need to enter the Amazon coupon codeSAVE20E3 at checkout in order to get your discount once you have added to pre-order games to your cart. The following exclusions apply: Skylanders, Disney Infinity, LEGO Dimensions; Collector's Editions, Limited Editions, Gold Editions, Limited Collector's Editions; consoles and accessories.
Pre-order games
I tend to only buy video games once they have been officially released but a couple of days ago, I pre-ordered Batman: Arkham Knight as a Father's Day gift for my hubby. The limited edition is currently sold out and on backorder anyways because of a production issue but you can pre-order the game for either PS4 or Xbox One for $69.99.
Very often, game publishers throw in bonuses for those who pre-order games and in fact, the Batman one currently even comes with the Waynetech booster pack, which includes Harley Quinn as a fully playable character. This game comes out June 23rd, so if you have been wanting to play it, I would definitely get it now for the bonus and the 2o% discount if you get another game. Here are other top choices that you could pre-order now:
The links here all point towards Best Buy but you can get all of these at Amazon if you prefer to shop there by searching for the appropriate title at the top of any Amazon page.
Your games are sure to qualify for free shipping as well as Best Buy automatically ships all orders over $20 for free and Amazon's free shipping minimum is $25.
(Expiry: 25th June 2015)