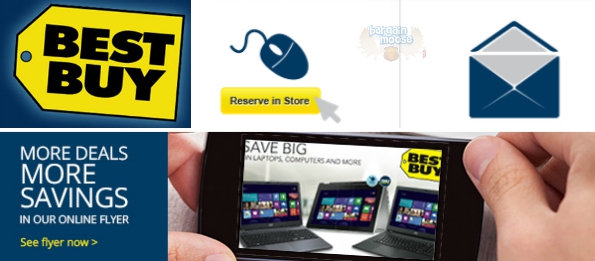 Best Buy Canada often has individual deals, but rarely do they have deals that will apply to anything. Currently, place an order for $100 or more with the reserve for in-store pickup option. Within 10 business days of your purchase, the email registered to the Best buy account you used will be sent a free $10 savings certificate. There is a limit of one certificate per person.
This deal is available for two days only: the 27th and the 28th of July. Your order must equal $100 before taxes (and any additional fees) and is limited to items that are reserved for in-store pickup via the online button. These savings certificates are redeemable online, which is great as best Buy Canada has that low minimum threshold of $25 for free shipping.
My job, then, is to find you some deals worth picking up in stores. This Dynex 32" 720p 60Hz LED TV (DX-32D310NA15)is on sale from $219.99 down to $169.99. This television is perfect for a kid's play room or for a dorm room. While my local stores are sold out, other stores still have this television in stock. If it is in stock, then you can save $50 on the television and then reserve for in-store pickup to get another $10 back via the savings certificate.
For those dying in the heat, try out the gorgeous Dyson 12" Desk Fan (AM06-12) Iron/Blue. These fans are considered 'air multipliers' that really output a good breeze. They are also child safe as the fans are bladeless. I remember trying to stick my fingers into the fan when i was a kid. I am not sure what I was thinking really. Originally $349.99, the fan is on sale for $249.99.

For those in need of a new wireless speaker, the Sony Bluetooth Wireless Speaker (SRSX33B) - Black is on sale from $149.99 down to $109.99. If you are after the other colourways, they might be harder to find. Reserve for in-store pickup means the store actually has to stock what you want. Most retail stores stock only the most popular colours. Thus, a speaker will be in stock in black - and maybe white - but probably not blue or red or green.
Unfortunately, most of the small appliances, baby gear, cutlery, luggage, and more are online only products. Look for products with a green check mark by the "Available at nearby stores" text under each product.
(Expiry: 28th July 2015)