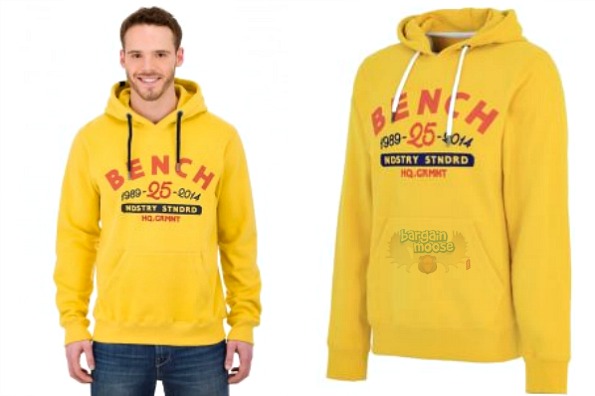 I was having a look through the sale section at Bench Canada because they are offering some great deals right now. All of their sales items are an additional 50% off the lowest price.  I found this Asher overhead hoody that was $99 for just $29.99 with this additional 50% discount!
This hoody is listed under the men's sale section, but with the bright colour of yellow and the awesome price, I was actually thinking of getting it for myself instead of my husband.  It was $99 and is on sale for $59.99.  Once you add it to your cart, you will save an additional 50% off that price bringing the total cost down to just $29.99.
A little bit about this great deal: it is a hooded sweatshirt with the Bench logo on the front of it.  It has a drawstring hood and it is bright yellow in colour, making it a unisex style.  They do have this exact hoody in other colours, but the prices are a bit different.  For example, if you prefer it ingrey, the final discounted price is $34.99.  That is still a great deal if you don't mind paying an extra $5 for the colour grey. Everything else about this hoody is the same. I actually prefer the yellow because of how bold and bright it is, and it is far more unique than the run of the mill grey.
Don't forget to check out all of the other great sales deals that are an additional 50% off the lowest ticketed price as well.  You have the chance to save a bundle on some clothing and accessory purchases.
If your cart total is $99 or more, you will get free shipping as well.
(Expiry: Unknown)