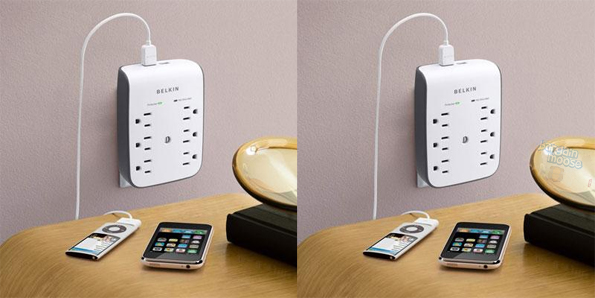 If you're in need of some more power sockets for any devices in your house, consider the deal on this Belkin BV106050 Volt Surge Protector With USB Charger 6 Outlets. The regular price is $34.99 but you can currently buy it at NCIX Canada for a measly $14.99 as well as FREE shipping to your home!
You can buy cheaper power bars, but this Belkin one has a few extra features which could make it worth the extra money. First of all, it's a Belkin – this is a really top-notch brand name when it comes to accessories like this. Belkin have an excellent reputation for great quality items.
Secondly, this power bar also has two built-in USB ports which you can use for charging up your various devices. This is a super-handy-feature to be honest. Sometimes I've had to power up my computer just to charge up my eBook reader – whereas with this Belkin, you could just pop the eBook in to that. I am sure this is true of many of your other USB devices.
Thirdly, this is a "surge protector" which means that if there is any sort of electrical power surge, this Belkin power bar will protect the devices which are attached to it.
Item Image
There's an image on the NCIX site and I've used it in this blog post. But they say, "Actual product may not be exactly as shown." So beware, you might not get a power bar that looks exactly like the above, but it will have all the stated features and specifications.
Reviews
On NCIX, this Belkin product had 17 reviews in total and of those 17, six are rated at 5 stars, seven at 4 stars, which seems very positive. There are lots more comments on NCIX which you can read, but one that stood out to me was this one from Scottc:
Great device, replaces 2 USB chargers, high enough current to charge most tablets. The ability to screw the unit securely into the wall is very nice feature.
Sounds good! I definitely like the ability to attach it to the wall to tidy up some of the loose wiring and the like. I currently have a 14 month old girl just learning to walk, and she is pulling and poking at absolutely everything round the house. Wires seem to be her favourite thing to be tugging on, so it's great to have them all tidied away with the likes of this Belkin device.
Canadian Shipping
Don't worry about shipping in this case, it's freeon this Belkin 6 Outlet Surge Protector. You know, it's rare that we see items from NCIX with free shipping, especially such low priced merchandise.
(Expiry unknown)