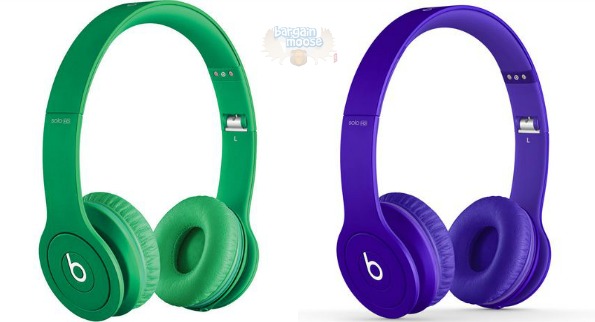 These are selling out quick so hurry! Walmart Canada is selling the Beats Solo HD Headphones for just $129 (from $189.95), and the green or purple are still in stock.
The rest of the colours walked out the door before 7am this morning when I pried myself out of bed. Beats is a really popular brand, and both at Walmart and at Amazon Canada (where you can purchase the green set also for $130) they have been getting hit hard.
The drenched colour does not merely mean that the headband is more saturated. It actually means that the ear cups, cord, and headband all match in a matte finish with a reflective Beats logo. Usually ear cups are a standard black, but on this set, everything is either green or purple! Get both and you can do your Hulk impression!
This set of headphones is also compact and will travel well with you. The headphones have active noise cancellation and the cord features an in-line mic and remote to control calls, volume, and tracks without having to pull your phone or MP3 player out of your jacket pocket.
Here are a few stats for inquiring minds:
Weight (kg): 0.16
Height (mm): 197
Length of cable (m): 1.361
Type of jack: 3.5 mm
Overall, these are fairly light weight coming in at just 160g. I value light headphones because they keep me from getting a headache. What I like about the Beats is how much bass they bring to the package. If you love hearing a good strong baseline in your music, then The Beats line of headphones is for you. I would love to get my hands on a purple pair because they are just so gorgeous. Pick yours up seriously ASAP as these will sell out before you know it.
Receive free shipping on all orders at Walmart Canada. Also, keep your eyes open for other short term hot Black Friday deals!
(Expiry: Unknown)