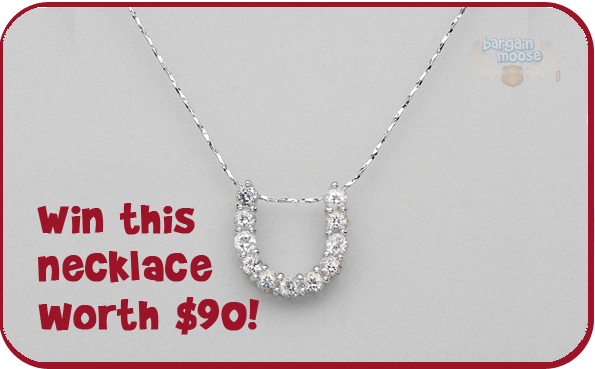 *** Contest closed - won by Josette ***
It's day 4 of our pre-Christmas giveaways here on Bargainmoose, where we're giving away loads of fun gifts! TODAY, for the next 24 hours, you can win a ladies' white topaz and sterling silver necklace worth $90!
HOW TO ENTER:
Simply share a hot deal, coupon or freebie on our deals forums!
A random winner will be chosen each 24 hour period. Make sure you have the correct email address on your Bargainmoose account, so I can contact you if you win.
Over on Twitter, I've been having a few surprise giveaways and I might have a few more over the coming week too. Happy_Chinadoll won a purse hook worth $35, mommakoala won a photo and video keychain worth $91, and Sherri13 won a set of "Let's Make a Mess in the Kitchen" Cookbooks!
Make sure and keep an eye on the Bargainmoose twitter feed because if you enter a contest there, the chances are very good that you would get a prize. And remember, our contests are continuing over the coming weekend, so come back and see us!
Rules:
This contest ends on the 10th December 2011, 9am CST.
We reserve the right to change the prize depending on availability. Replacement prize would be of an equal or higher value.
Duplicate submissions will not be counted as a valid entry. Do a quick search on the forums to make sure it's not already there.
One contest entry per household, per day.
Admin's decision is final in all cases.