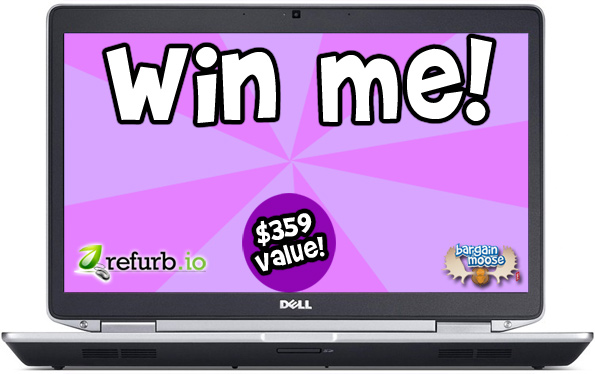 *** Contest now closed, winner was Mooser Maureen!!  ***
Christmas is coming and the geese are getting fat! Please put a penny in the old man's hat! But instead of a penny, how about a Dell laptop!? Our friends over at the Canadian tech store Refurb.io, have decided to give ONE of you lucky Moosers a free laptop for Christmas! This is the Dell Latitude E6230 laptop, a Dell 3rd gen model, a 12" ultraportable laptop and it is worth $359! This is a Bargainmoose exclusive contest, which you can enter by clicking through and following the instructions here:
All you have to do is click on the above link, subscribe to emails and you will be in with the chance of being the lucky Mooser to get this Dell laptop for yourself. And all being well, we should be able to have the prize to you by Christmas – enabling you to gift it if you wish, or hoard it for you alone. :)
If you win this Dell laptop from Refurb.io and Bargainmoose, what will you do? Will you be a gifter or a hoarder?
The DELL Latitude E6230 laptop is a refurbished model, however it's fully refurbished, an A-grade model and in tip-top condition. You will also get a full one year warranty with this item. Here's a quick breakdown of some of the spec, for those of you in the know:
Memory: 4GB
HDD: 256 SSD
Screen: 12.5"
Resolution: HD 1366 x 768
Graphics Card ( Yes / No): Intel HD
O/S: WINDOWS 7 PROFESSIONAL
I know there are some of you out there who maybe only browse Bargainmoose on your smartphone, and might not even have access to a laptop or a computer. Would you like to win this prize?
Happy holidays Moosers!
Quick Rules: contest ends 15th November 2015!