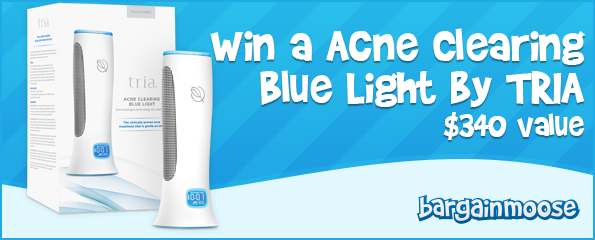 *** Contest now closed, winner was Bargainmooser Gayle! ***
Remember the Tria Age-Defying Laser that we gave-away back in April? Well the nice people at Tria love Bargainmoose so much that they've decided to give us another one of their great beauty products to giveaway! This time, it's the Acne Clearing Blue Light (valued at $340).
The Tria Acne Clearing Blue Light is a do-it-yourself version of an acne and blemish treatment offered by dermatologists. I never suffered from acne but I have had annoying blemishes so this tool has piqued my curiosity! The Tria device works by using a non-UV light therapy called "blue light" to eliminate bacteria that causes breakouts at their source. This results in a clearer complexion, which of course is what we all want!  You can read more about how it works and watch videos on the Tria website.
As I mentioned in the last Tria contest post, I think it's really important to do your homework before investing in a tool that's going to cost you a couple of hundreds of dollars, and after doing my own research, I am happy to report that the reviews look quite positive. If you want to get a taste of what people are saying, check out the Tria Reviews & Stories page.
Just a heads up, in order to keep your treatment going you will need to buy Blue Light Cartridges every few months at a cost of $45 each.
Want to win this prize?
"Comment below with your best tips for avoiding or getting rid of a breakout!"
Get bonus contest entries!
Leave a link to this contest on Twitter, ensure you include @bargainmoose.
Post a link to this contest on your wall, make sure you like Bargainmoose.
Pin this contest on your Pinterest & follow us there.
Rules:
Canadian entrants only
One entry per household
Ends 16th July 2014 23rd July 2014 (extended)
Rules subject to change at admin's discretion