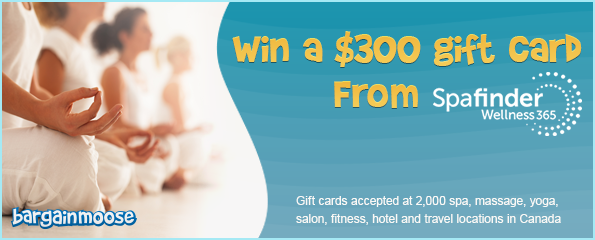 *** Contest now closed, winner was Bargainmooser Zahra! ***
As promised, we've got one more prize to giveaway in honor of Mother's Day. This time it's a $300 gift card from Spafinder Wellness 365.
Spafinder Wellness 365 gift cards are redeemable at thousands of "wellness" related centers like spas, beauty salons, and fitness centers across Canada and the world. To find a location that accepts their cards, just type in the city that interests you on their Find Services page. There are over 2,000 locations in Canada and 20,000 around the world that accept their cards so it shouldn't be hard to find a place that suits you.
I like these gift cards for a few reasons. First, they are redeemable at thousands of places and for tons of different services, so when I buy one I'm not committing the giftee to one place or one activity. Second, I can save some money on theses cards thanks to some coupons we've got floating around on our Spa Finder Wellness 365 coupon page. Hooray for savings! Third, they are valid at spots I actually want to visit. I tend to be skeptical of sites that offer discounts on local services because I assume that they only offer deals for sketchy unknown businesses. That's why it was a nice surprise to see one of the most popular downtown spas in Montreal, Bota Bota, listed on their site.
If you're interested in buying a Spafinder Wellness 365 gift card as a Mother's Day gift, you can do so up until the very last minute on May 11th, because buying one only takes a few minutes. That is of course if you're choosing the e-card or print-it-yourself option. If you want your mom to receive a physical gift card in time for Mother's Day, you're running out of time! Spafinder has an Express Post 2nd Day shipping option for $8 that might be able to get it to her on time but I would check with customer service to make sure.
Now let's get to it. What do you have to do to win a $300 Spafinder Wellness 365 gift card?
Check out the Spafinder Wellness blog and comment below with the title of an article you enjoyed.

And if you want some bonus entries, here's what to do:
Leave a link to this contest on Twitter, ensure you include @bargainmoose.
Post a link to this contest on your wall, make sure you like Bargainmoose.
Pin this contest on your Pinterest & follow us there.
Rules:
Canadian entrants only
One entry per household
Ends May 11th 2014
Rules subject to change at admin's discretion