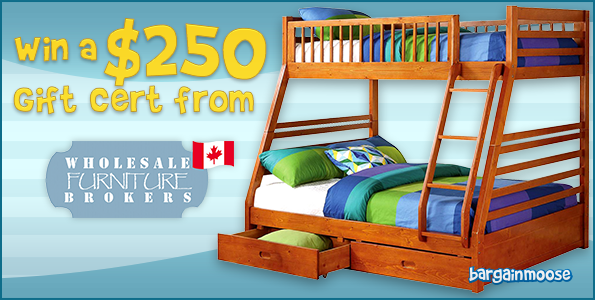 *** Contest now closed, winner added soon! ***
Does your living room need some sprucing up? Are your children sharing a bed? Has your couch seen better days? Enter our contest for your chance to win a $250 gift card from Wholesale Furniture Brokers.
I recently got an entire new living room set, but I feel like something is missing. I need another chair with a footstool to complete the room. I would love to win this contest so I can get myself a nice reclinerfor watching television comfortably.
I am also in the process of looking for a house and we know we want a finished basement, as we have three growing boys. We recently got rid of our sectional couch that got us ten great years, but was a lot worse for wear. I'd love to get something more durable with having three kids and three pets, but also something that looks amazing. This Sacramento Espresso leather sectional sofa set with chaise is absolutely perfect for my family. It is a fabulous deal too, having a retail price of $2,699 and on sale now for $999.
Fortunately, there are also a bunch of exclusive coupons for Wholesale Furniture Brokers that would make this an even better deal. On that purchase I could save $100 with a current coupon and there are a variety of coupons there for your purchase as small as only $100.
Even better, Wholesale Furniture Brokers offers free shipping on every purchase. If you went into any of the big name furniture stores and bought yourself something, your bill would show you a minimum of a $50 delivery charge, so free shipping is definitely worth its weight in gold.
How to win this prize?
Comment below on the following question(s):
Tell us what product you're planning on spending your gift certificate on!

Get bonus contest entries!
Rules:
Canadian entrants only
One entry per household
Ends 19th October 2014
Rules subject to change at admin's discretion