Bargainmoose Birthday Contest Day 1: Find the Leprechaun's Pot of Gold & Win an iPad Mini! (NOW CLOSED)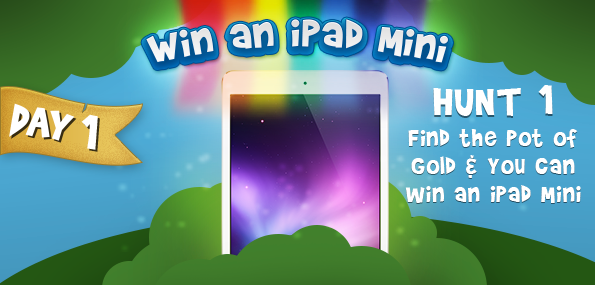 *** Contest now closed, the winning number was 42 ***
*** The winner was Mooser Taylor! ***
As I mentioned in a quick post yesterday evening, it's Bargainmoose's sixth birthday this week! And to celebrate, we're raiding the poor little leprechaun's pot of gold, and awarding FOUR loyal Bargainmoosers with an iPad Mini each! Would you be interested in winning one? Read on …
How To Enter Today's Contest

Hidden in the deepest, darkest corners of the Bargainmoose blog, are some precious pots of Leprechaun's gold, which look like this >>>
To find them, here's what you have to do:
1. Solve the question below
2. Pop your answer into the Bargainmoose search box at the top of this page
3. Hidden in a blog post, find the secret number on the pot of gold
4. Email the winning number to us here
Solve The Question
Riddle me this:
What's the name of a leprechaun's walking stick?
Bonus Contest Entries
More Spot Prizes!
Over the course of the Leprechaun's contests over the next 8 days, we will also be doing some spot prizes. We'll start a contest thread which will only be live for a couple of hours, with a few prizes up for grabs. You'll only have a short window of time to enter these mini-contests, so be sure that you're browsing Bargainmoose a few times a day to be in with a chance of winning.
Day 1 Rules:
Canadian entrants only
One entry per household
Ends 20th August 2014
Rules subject to change at admin's discretion