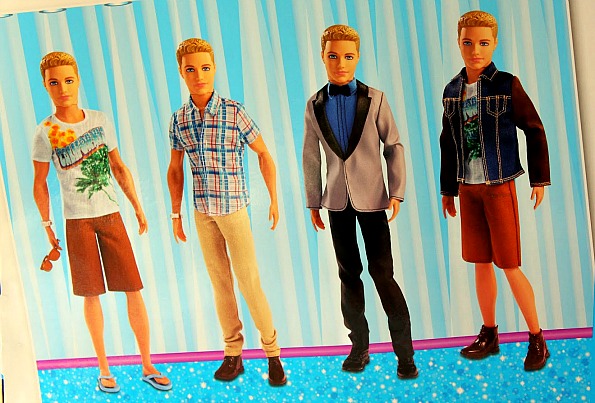 *** UPDATE - from time of writing, this dropped from $14 to only $8! Wow!! ***
Barbies are probably the most popular dolls on earth. Complement your child's Barbie collection with their very own Ken doll. This Barbie Ken Fashion Giftset includes a Ken doll and three fashions sets of clothing. Originally $29.97, this set is now on sale for $14 for $8. Receive free shipping to your local Canada Post location or Grab & Go locker.
While this set is no longer sold @ Amazon, I did find another Ken Giftset on sale from $34.99 down to $24.97 @ Toys R Us Canada. All I can say is that you will pay $11 less at Walmart right now. The blonde Ken doll is wearing a pants and shirt set. He comes with a tuxedo and a pair of shorts, t-shirt, and a jacket. There are also various accessories included with the clothing.
Ken can wear flip-flops, sunglasses, a wallet, a watch, dress shoes, and casual boots to complete his many looks. Mix and match for fun combinations. I am thinking a tuxedo and flip-flops for that beach romance. There is also a box of chocolates that can be held in Ken's hand and offered to his sweetheart. Does Ken only have eyes for Barbie or does he have eyes for one of Barbie's friends?
This set offers amazing value at only $14. One reviewer (on the US Amazon) commented saying:
For the value it was worth the money. Kens Clothes alone are $6-7 per outfit alone, there are 3 outfits. plus Ken the doll another $10-11. There are a couple questions below asking does it come with the ken doll. The answer is YES Ken is included. I would recommend.
If you look at it that way, three outfits would run you $18 alone with the Ken doll adding on an additional $10 for a $28 minimum value (and that is in USD by the way). There are additional accessories you get in this gift set too. Another reviewer mentioned how there are far less outfits for Ken so this was a really nice pack. It filled a hole in her daughter's collection.
I think this Ken Giftset would make an excellent gift this Christmas for your Barbie-loving child. At only $8, it won't break the bank.
(Expiry: Unknown)