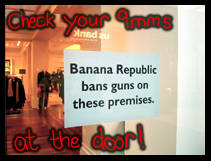 Banana Republic Canada are having a 1 day only sale on the 10th of December 2008! All of their regular priced merchandise will be discounted by 40%!
This deal doesn't apply to online purchases, it will only be applicable at your nearest Banana Republic store.
A friend of mine loves Banana clothing, in particular their men's shirts, so I'll be passing the details of this sale on to him!!
There seem to be loads of fashion offers coming into my inbox lately – all these big stores trying to get me to spend money with them before Christmas. As they mention over on the Loulou blog, be a smart shopper! There are so many sales to choose from, check you're getting the best offers!!
Thanks for the image kerim!