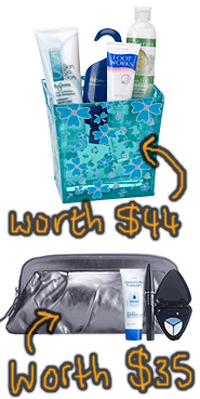 Click here to shop online @ Avon.ca.
You can get the Bath & Body Gift Basket Set for free when you spend more than $55 (pictured top right). Here is the description taken from their site:
Versatile basket with removable divider will help organize your new lotions, creams and other bathroom essentials including Foot Works Deep Moisturizing Cream, Skin So Soft Fusions Soft & Nourish Body Moisturizer, Naturals Milk Body Cleanser Cucumber Melon and Mesmerize for Men Hair & Body Wash. A $44 value!
Alternatively, you can choose the "Luxurious Silver Clutch Gift Set" but it's only worth $35 (pictured bottom right). Here is the description:
This sleek metallic clutch is a cool way to carry must-have items. Fully lined with one zip pocket, 33.5 cm L x 16.5 cm H x 2.5 cm D. Also includes our popular Astonishing Lengths Mascara in Black, Heavenly Soft Eyeshadow Trio in Flirty Turquoise and Moisture Therapy Intensive Mini Hand Cream. A $34.98 value!
When you have over $55 worth of products in your cart at Avon, the free gift will be automatically added to your order. It's pretty easy to spend $55 at the Avon store online. I really love the Avon bath and shower gels. Any time I'm ordering from Avon, I always throw a few lovely smellies in my cart. I usually use Dealguild Canada for 5% free cashback too!
Avon's basic shipping charge is only $5.95, which is very reasonable indeed!