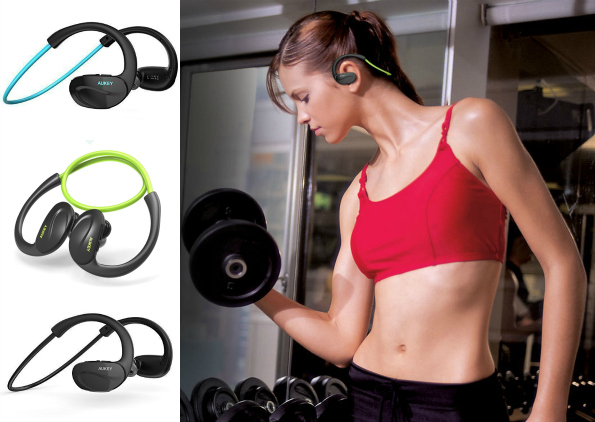 One of the Amazon Canada deals of the day is a great wireless sports headset at a solid price. The Aukey EP-B13 Bluetooth 4.1 Wireless Stereo Sport Headphones are currently on sale from $49.99 down to $21.99. I checked with CamelCamelCamel, which reaffirmed that this is the lowest price this headset has ever been.
I am already thinking of gym equipment, workout equipment, and other equipment that you and I are going to need to get back in shape. I don't know about you, but the people we rent from dropped off a box of 48 Ferrero Rocher and I have not been able to say no. I have noted that I work out faster and longer when I listen to music, so a headset like this is pretty mandatory if I am to have any hope of lasting longer than five minutes at the gym.
This headset is superior to your average earbuds. The headphones fit over the back of your ears and are secured with a band around the back of your head. They will not come off no matter home hard you peddle that elliptical or how fast you run on the treadmill. They are also wireless: they come equip with Bluetooth 4.1 to communicate wirelessly with your Bluetooth-enabled device like your smartphone. There are no cords to get tangled and you will not accidentally side-swipe your cord and send your phone flying when lifting weights. Been there - done that. Surprisingly, the machine survived.
All three colour options are on sale: black, green, and blue. The green and blue options just have accents in those colours; the main body is still black. These are a highly rated set of headphones for those concerned about quality. They currently have a 4.6/5 star rating with over 100 reviews. While there are occasional negative reviews, most people think they fit great, don't budge once you put them on, and have great quality for the price. You always have to remember, these may be great for a $50 and under headset, but don't expect the quality of a $100 pair.
Receive free shipping with Amazon Prime or toss a little something in your cart for free shipping on $25 or more. I recommend adding on this Schick Hydro Silk Razorfor $4.99 that I posted about earlier. It is also a great deal and will bring your cart up enough to get free shipping.
(Expiry: 27th December 2015)