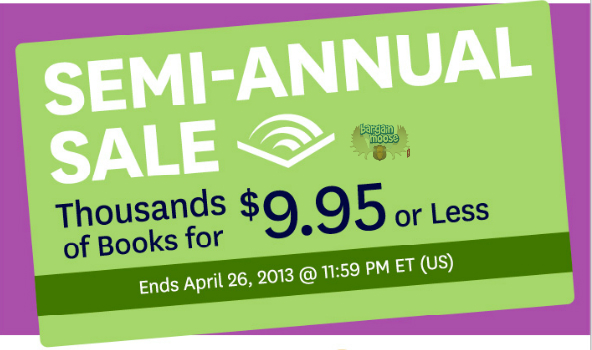 A sale like this comes but twice a year, kids. This is the Audible Semi-Annual Sale and it's awesome!
First things first, if you want this deal you have to be a member. Not a member yet? It's simple to join and they offer a 50% discount for your first three months as a member! Once you're done the three months you can either stay on a plan where you get one or two credits per month or you can go an a yearly "Audible Lite" plan where you pay $10/year and get no credits. The lite plan gives you access to all the great deals that Audible has throughout the year, like this one! The books you get are yours to keep forever though, even if you cancel your subscription.
This sale has tons of books from pretty much every genre. Want romance? How about Whispering Rock for $9? That's a savings of $14.95 off of the original price of $23.95.
Not romantic? Just a bitter lump sitting in your mom's basement? I suggest some great fantasy novels. Perhaps something like Soulless: An Alexia Tarabotti Novel. Yours for only $9.80 ($14.15 off the regular $23.95 price).
Not a fan of fantasy? How about reality? History maybe? The Swerve: How the World Became Modern for $9.80 should suffice. Normally $20.95, you're saving $12.15!
There is something for everyone here so make sure you check this sale out!
(Expires: 26th April 2013, 11:59PM ET)