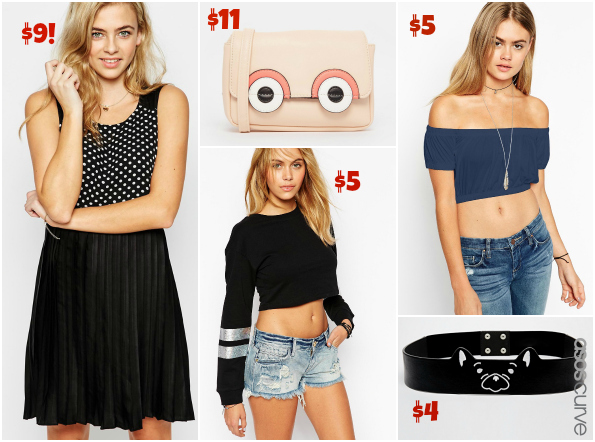 ASOS (UK) is offering up to 90% off in their outlet that pairs beautifully with the new 30% off coupon code they have for Black Friday / Cyber Monday. Save loads of cash when shopping for stylish duds from across the pond. Shipping is free on Canadian orders of $45 or more or a flat rate of $6.50. To change currencies, just use the flag in the top right corner.
Click here to shop the Black Friday sale @ ASOS (UK) now
Coupon Code: BLESSED
Discount: Extra 30% off everything
Expiry: 30th November 2015
It is now my job to give you an example of all the great deals you can score. First of all, this Liquorish Polka Dot Dress with Open Back was $108.76 but is now on sale for $11.33. After coupon code, pay $7.93 for this skirt in size small. Can you believe that discount? it is out of this world!
Let us talk shirts. I really like this ASOS Cropped Sweatshirt With Holographic Stripe Sleeve. It has a sporty style that I like and it is a crop-top, which is one of my favourite styles. Originally $45.32, it is now on sale for $6.80. After coupon code, pay just $4.76 for this sweater. As a quick note, Canadian sizing is minus 4 to UK Sizing. A UK size 18 is a US/CA size 14.
We cannot forget the wonderful world of bags. This ASOS Novelty Big Eyes Cross Body Bag is on sale from $36.25 down to $13.59. After coupon code, pay just $9.51. This bag is small and cute - it would make an amazing summer purse due to the pretty pastel colours.
I have been looking for a new belt - but not just any belt - a cute belt. This ASOS CURVE Pug Waist Belt is about as adorable as they come. Originally $27.19, this belt is on sale for $4.53. Yes, you will pay just $3.17 after coupon.
I like this ASOS The Off Shoulder Crop Top as it reminds me of a peasant top - super adorable. The navyand the green are on sale from $22.66 down to $6.80 each. You pay just $4.76 each.
As you can see, the prices are to die for in the outlets and the coupon code stacks on top for even more sales. If you are aiming for $45 worth for free shipping, you could restock your entire wardrobe. Do note that any orders over $20 may get hit with duties but i have ordered over 15 times from ASOS and never had duty charged.