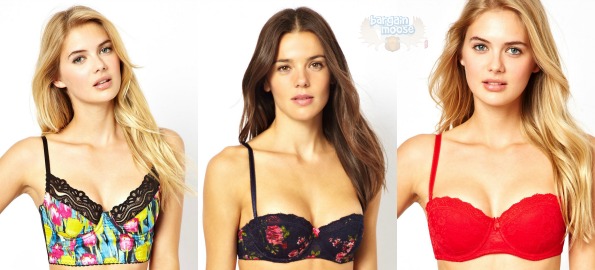 Asos UK has a fantastic selection of fun bras on sale for under $20.
If you buy anything internationally for $20 or less (though some websites say $22 or less) there is no risk of customs charges on your package. So I have rounded up a bunch of sale bras from my favourite international clothing boutique ASOS that are all under the $20 threshold.
This ASOS Boudoir Fringed Lace Bandeauis perfect for the smaller busted gal as it is both wireless and strapless. Originally $29.53, it is now on sale for $11.60. Another wireless bra, this ASOS Boudoir Daisy Print Keyhole Front Soft Bra is just darling and perfect for sleeping in or wearing under breezy shirts on a hot summer day. Originally $29.53, it is now on sale for $11.60. The last member of the bralette family is my favourite of the three: the ASOS Boudoir Water Colour Floral Chiffon Soft Triangle Bra was $29.53 and is now $16.88. I like the vibrant colours and the triangle shape is always a favourite of mine.
If you are looking for a wired bra, then you have several choices. The ASOS Boudoir Fishnet Underwired Brawas $37.97 and is now only $14.77. While not a huge discount, this New Look Printed Lace Rose Balconette Bra is a bargain buy at only $15.82, originally $21.07. The same company makes this New Look Halenka Strapless Bra that was $21.07 and is now $17.93. Yet my favourite, and the best deal of the bunch, appears to be this ASOS Boudoir Cotton Floral Lace Trim Longline Brathat was $46.41 and is now $17.93.
If you are really on a budget then you can pick up some two-packs of bras for under $20 as well:
There are plenty of bra options for anyone on a budget. Get free shipping on all orders from Asos.
(Expiry: Unknown)