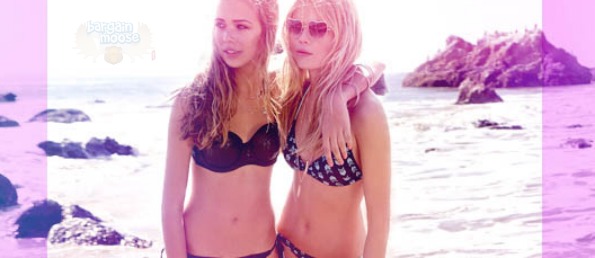 For just a few days only, you will be able to get some really incredible deals on swimwear.  Until July 20th, you can choose any two pieces of swimwear for just $15.
If you are looking for some new swimwear for this summer, look no further than this awesome sale.  Basically, you can choose any two items from their swimwear selection and you will get the two of them for just $15.  With over 100 different pieces to choose from, you will have a lot of variety for styles and looks to suit your personality.
Every single piece of swimwear is regularly priced at $14.95, so this deal is essentially getting your two items for the cost of one.  All of the pieces are either a top or a bottom and they have a lot of different styles, patterns and colours.
How cute is this multicolour bandeau top that is normally priced at $14.95?  I would pair it with these hot pink tied bikini bottoms that are also normally priced at $14.95. With this deal, the pair will be just $15!
I also really love this pink leopard bustier swim top that would go great with these black rawr swim bottoms.  The two pieces would normally cost you $29.90, but end up being just $15 with the swimwear deal.
This deal is so great, here is what I would do; I would end up getting all four pieces, and I will tell you why.  The four pieces together would only cost you what two of them would normally cost you. Having four separate pieces will give you four different looks in total for the summer.  It's like getting four outfits but just paying for two!
As for the cost of shipping, you can get free shipping for all orders of $29.99.  If you are just getting a couple of swimwear items you will be spending so little you will not hit that low minimum charge for free shipping.  Fear not though, they have a great shipping deal on right now as well. You will only have to pay $1 shipping for all orders with no minimums for a limited time only.
(Expiry: 20th July 2104)