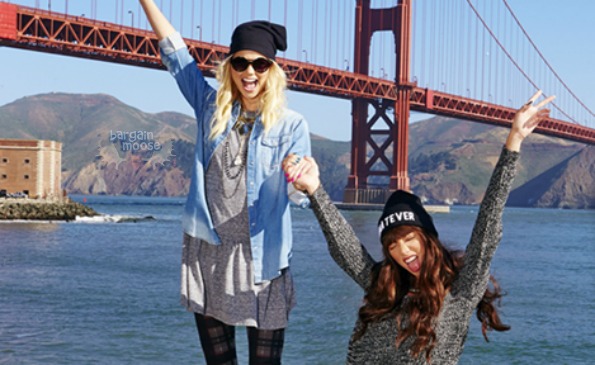 Shop at Ardene this weekend and get free shipping with no minimum order. Normally, you'd have to spend $59 or more or pay $7 for shipping.
Not only does Ardene have free shipping, but they have some hot sales to pair with this deal. While the $59 minimum isn't too much to start with, if you find that one key item you'd like at a deep discount, you really don't want to have to pay $7 to get it to you. That's why free shipping with no minimum is so awesome.
Ardene's prices are already so low, but when they have some pretty great 2 for or 3 for deals that make you want to stock up or get one for a friend.
You can get two pairs of footwear for only $20! That's $10 for a pair of shoes, which to me is outrageous. Boots are still a good deal too, with buy one, get one 50% off. These black glitter flats with knots are very cool and look very comfortable for all-day wear. The regular price is $14.90. For a more casual look, add these black laced sneakers to your cart as well, and these have a regular price of $12.90. If you get them both, you'll see a discount of $7.80, which is almost a pair of shoes free.
Ardene also has a Halloween shop, for all the ladies who have parties to attend this October 31st and want to look raging. The costume selection isn't huge, but Ardene has lots of accessories that could make a total costume. For example, get your schoolgirl costume together with this navy and cream plaid flannel skater skirt, which is $22.90, but buy a second item and get it at 50% off. That second item could be this dark romance high-low tee, which you could wear at any time of year. It is regularly priced at $12.90, but get it with the skirt and pay only $6.45.
As an added incentive, if you spend $35, you'll see your order discounted by 15% right in your cart. Very cool!
For more free shipping offers, you should have a quick peek at our free shipping page.
(expiry: unknown)