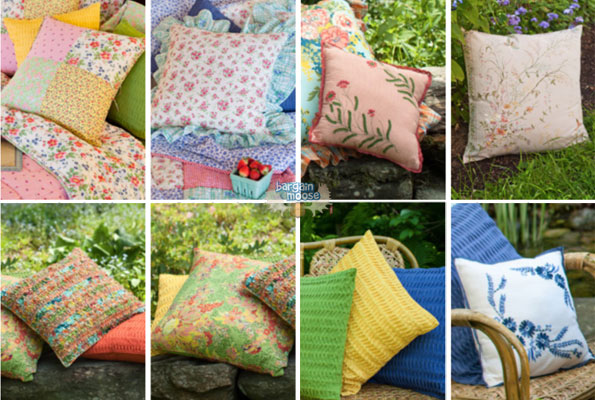 April Cornell just launched an awesome buy one get one promotion on cushions! Buy one, get one free until the end of the weekend.
Buy one cushion, get one free @ AprilCornell.ca now
Coupon Code: STACK14
Discount: buy one cushion, get one free
Expiry: 6th July 2014
'Tis the season of patios and barbecue parties, and I can definitely see most of these cushions looking nice for outside use or decorative purposes. I particularly like the deft embroidered cushion at $19 as it features blue flowers stitched onto a white pillow. As Avigayil mentioned a couple of weeks before, although April Cornell's prices may seem higher compared to other merchants, the biggest factor to remember is that they also offer products of quality. Most of their merchandise is made from 100% cotton, which is a much better material compared to polyester, for instance. The deft embroidered cushions, with the other cushions, are actually made with slub cotton, which is a cotton that most resembles linen.
Whether for outside or inside use, the great part about these cushions is that the cover is removable and may be machine washed in cold water. There is nothing more annoying than throwing in an entire pillow to wash, only for it to come out either in pieces or with the fluff unevenly distributed.
For a more universal look, I also really like the essential cushions (two for $34) as they are available in a variety of colours and feature a self-striped cotton pattern.
The only potential drawback are the shipping fees as the more you spend, the higher these are: $12.70 for orders under $50, $13.70 for orders under $100, etc. However, this buy one get one offer definitely makes it worth it, as this is how I see it:
Without the buy one get one offer: two whisper cushions @ $29 each = $58 + $13.70 shipping fees = $71.70
With the buy one get one offer: two whisper cushions for the price of one = $29 + 12.70 shipping fees = $41.70
Plus, both pillows don't need to be the same. The discount is applicable to any regularly-priced cushion at equal or lower price. For more April Cornell coupon codes, be sure to keep an eye on our forum.
Bargainmoosers, which April Cornell cushion is your favourite?