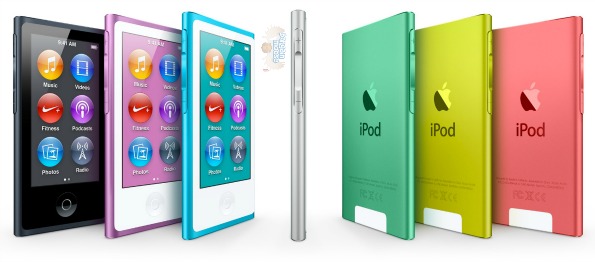 It's back lovely Moosers! Apple Canada has restocked a bunch of gorgeous refurbished seventh generation iPod Nanos for only $99 apiece ($50 off retail price) with free shipping!
Scroll all the way to the bottom of the screen and under "More Stores" select "Refurbished & Clearance" and then the iPod selection. Apple has this issue with deep linking.
Now, I blogged about this deal back in the spring, and I am delighted it is back. iPod Nanos make excellent gifts to pop under the tree for a loved one. Do not worry about your Nano being refurbished, as all refurbished products from Apple come with:
brand new battery
brand new outer shell
full one year warranty from Apple
new white box
manual and all accessories
new, unopened earbuds
Essentially, it is just like a brand new Nano except all the bugs have been worked out of this one first. I have always bought refurbished iPods from Apple and I have been quite satisfied with them. My husband's current Nano (sixth generation) is a refurbished model and there have been no problems at all. I highly recommend them.
I also recommend refurbished Nanos because they are a great way to save money. Check out the price of seventh generation Nanos on The Source, Future Shop, and Best Buy Canada right now. On average, they are on sale for $129.99 and Best Buy is completely sold out online. You save an extra $30 going directly through Apple and get the same thing!
Right now, there are four colours available for music loving hipsters like myself:
I am tied between the purple and the green. They are both such lovely colours!
These are the same iPods you know and love. They have 16GB of space with a 2.5-inch Multi-Touch display. They also feature Bluetooth 4.0 for connecting to external speakers to share your tunes. They will play video and FM radio with the ability to live pause. If you want your Nano to help you with some fitness goals, the Nano comes with Nike+ support built in with a pedometer. No adapter needed.
For those who want something a little bigger, there are some iPod Touch devices in the refurbished sale in both 16GB and 32GB sizes. I also found an iPad mini with Wi-Fi 16GB - Black & Slate under clearance items for $319. Have a look around, you never know what deals you might find.
(Expiry: quantities limited)