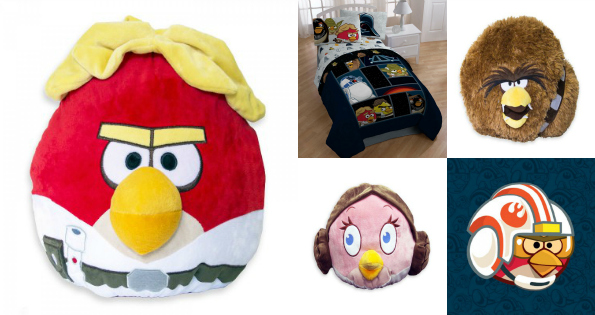 Star Wars is super popular - especially with the new movie comping out soon! I spotted the Angry Birds Star Wars 12" plush on sale while browsing Maple Harbour. The Luke figure was $19.99 but now Luke is $13.99 - or just $12.60 after our exclusive coupon codebargainmoose2015. You can also pick up a Luke Disney Angry Birds Star Wars Throw on sale from $19.99 down to just $12.60 after coupon. You will receive free shipping on your entire order with no minimum.
Both of these are quite substantial in size. The big ball Luke Angry Birds Plush is 12" in height and pretty much that thick around as he is sort of a ball shape. I remember seeing these in stores and they were always quite expensive. You could barely buy something half the price for this size. The throw is also quite large: it measures 50" by 60".
I think these make a great gift set together for your Star Wars and angry Birds fan. I have played the Star Wars version of Angry Birds and it is a lot of fun - I must say. I have discovered that I have terrible aim (oops) so finishing any of the harder levels can be chalked up to sheer luck.
At $12.60 each for the throw and for the plush, I figured this was a great deal. I am not a fan of Luke myself, so I was eyeing up some of the more expensive plush. Maple Harbour also has a Disney Angry Birds Star Wars Chewbacca that was $19.99 and is now $17.99. After coupon code, pay $16.19. This Disney Angry Birds Star Wars Princess Leiawould be more style and she is the same price as Chewbacca after discount. Each of these plush are 12" so you are getting a good amount of stuffed Star Wars plush for the price.
Now, say your child is a huge Star Wars and Angry Birds fan. Well, you want to get them the ultimate gift, right? Check out thisDisney Angry Birds Star Wars 4-Piece Setfor their bed. The discount on this isn't that high, but it might just be good enough. Originally $99.99, this set is on sale for $89.99. After coupon code, pay $80.99 for the comforter, two sheets, and a pillow case for a twin bed. All of these items would make great Christmas gifts.
(Expiry: Unknown)