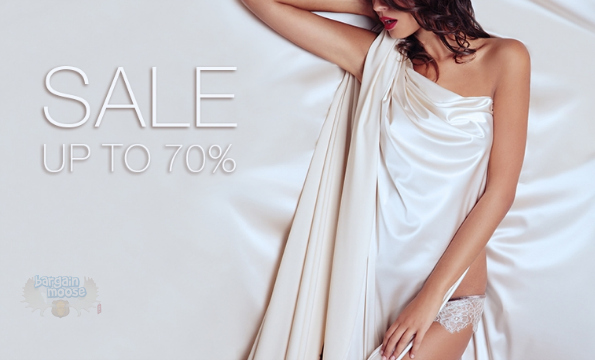 Amoralle is one of my favourite places to purchase lingerie and loungewear. They are a company out of Latvia that offers free worldwide shipping. They also just started an up to 70% off sale. All prices are in euro but you can use XE currency exchange to calculate it in CAN dollars.
To help our lovely little Moosers out, I figured I would break up their sale section into a few price categories for different budgets.
Items under $100 Canadian Dollars
There are so many amazing deals at this price point. My top choice is the Sheer Polkadot Violet Top that was €69 and is now €34 = $46 CAD. This top would be amazing for layering under a dress jacket or over a camisole. Next, I would choose the Black Bodysuit with straps on sale from €101 down to €40 = $54 CAD. Every girl needs a plain black bodysuit. They can be paired with a skirt and a cardigan, paired with a pair of jeans and a sweater, or they can just worn on their own for lounging. My third choice is this steeply discounted Bra and Sheer Briefs set. Originally €120, the set is now on sale for €36 = $49 CAD. This is a vintage inspired set that is bold and beautiful.
Items from $100 - $200 Canadian Dollars
Some of my favourite items are just a tad bit more decadent. First, the beige maxi dress with ruffles is just decadent. I am not a fan of beige but this dress would be an exception to the rule. Originally €230, the dress is on sale for €92 = $125 CAD. Secondly, The White Opal Robe is made of yards and yards of glorious lace trimmed in black. I actually own this robe and it is glorious. Originally €360, it is now on sale for €108 = $147 CAD. Lastly, the Azurite Robe is really something to behold. The combination of opaque and sheer fabric really makes this a stunning piece. The steep discount on this robe makes it very appealing as well! Originally €395, the robe is now on sale for €119 = $162.
I have ordered from this company twice before, and have yet to be hit with duty. However, that does not guarantee that will be the case every time - it is just for reference.
(Expiry: 16th May 2015)