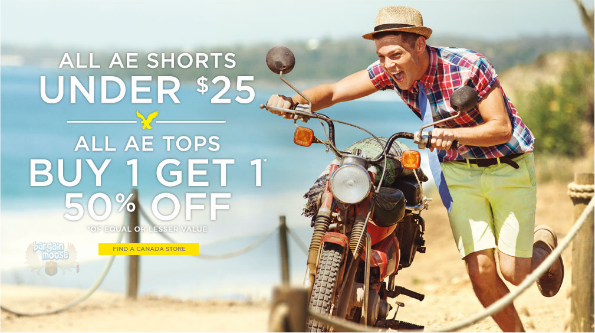 Dress yourself head to toe for cheap at American Eagle! Shorts and dresses are only $25, and shirts are on buy one get one for 50% off! Here are the sections you can shop:
So as you can see there are five separate sections to this sale depending on what item and what gender you're buying. The $25 price point on the shorts and dresses is in USD but AE converts it to Canadian on the site so it ends up being a little bit more than $25 because of the exchange rate. It's only a few cents difference though. Shipping depends on where you are and what you buy and ships from the US  so this deal will only work out in your favour if you're saving a  good amount of money.
If you don't want to deal with the shipping, you can check out a similar sale in store at AE Canada.  The sale is the same but no dresses. Shorts for $25 and B1G1 50% off on shirts.
Luckily this is a great sale so the shipping won't be too much of a hindrance. I think the shorts and dresses are the best deal here because it's just a flat $25. Doesn't matter what price the shorts were, you get them for $25. It seems like $40 to $50  was the standard price for the shorts and dresses before the sale. The buy one get one 50% off is good too and they have tons of selections in all these categories.
Are you gonna trudge down to the mall and save more money or kick back at home and save a little less to have someone bring it to you? Let me know in the comments below!
(Expires: Unknown)