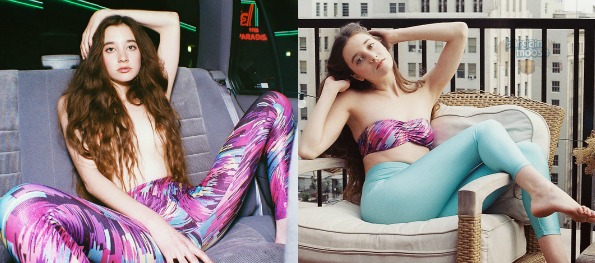 American Apparel has released a high value coupon code for 50% off Cali Sun and Fun leggings. Keep your legs warm and bright this winter by layering up with leggings from American Apparel.
Click here to shop leggings at American Apparel now
Coupon Code: BUNNY
Discount: 50% off leggings
Expiry: 24th October 2014
The discount only applies on the leggings through the above link. There are approximately 14 different styles to choose from so you should not have any issues finding a nice new pair of tights if you like shiny nylon and crushed velvet. I like both so this is fantastic.
This coupon works on top of the existing sale items in the leggings section above. Because this combination gives the best deal, I am going to focus on them.
These Shiny Leggingswere $32 and are now on sale for $25. After coupon code, they come down to a mere $12.50 each. I like these leggings because they provide basic but bright colours for your wardrobe. I like the Royal Dots on Turquoise colour and would buy it if they were still in stock in my size. Those tights would match a leather mask I have of Poseidon's horse (water horse thus blue). That would bring me closer to creating a costume to match my mask.
The Geo Printed Shiny Leggingare another pair of leggings that comes down to $12.50 after coupon (was $32, on sale for $25). You seriously want to buy the Lime Multicolor Geo pair now, as they will make the perfect Leprechaun leggings for St. Patrick's Day!
The Hologram Leggingis extra shiny for dazzling any would be admirers of your legs. The leggings come in pastel blue or pink. Originally $46, the leggings are on sale for $36. After coupon code, pay only $18 a pair.
There are many other fun leggings including crushed velvet, which is a personal favourite of mine during the winter. There is nothing like the feel of velvet against the skin to keep you warm. I love theseCrushed Swirl Velvet Leggings in the red swirl; they remind me of a dragon. Originally $46, score a pair for only $23.
I wear many leggings and find them the most comfortable thing in the world besides dresses. I used to wear jeans but could never find a good fit because of my 13" difference between my hip and waist.
Shipping is free on orders of $60 or more. For orders under $60, pay just $8 flat rate.
For more American Apparel coupon codes, be sure to have a look on the Bargainmoose forum.