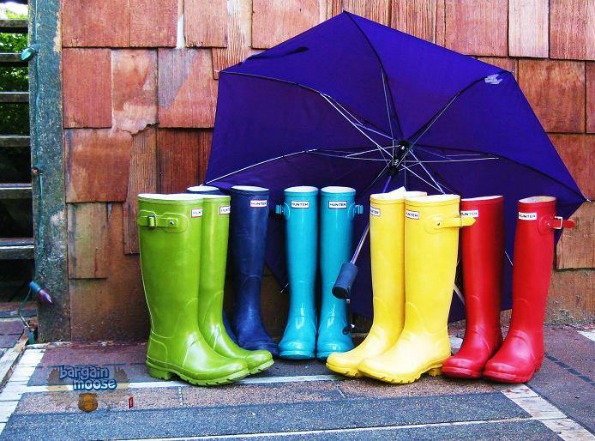 Anna mentioned this deal in the weekly Moose-o-mail (boy I like that term)! I was recently hunting for some Hunter Rainboots (also known as wellies) as the rains have started. I couldn't find them any cheaper than $150 or on the rare occasion a $140 for just the short wellies. Anna and I worked together (deal hunters unite!) and found out I could get them on Amazon UK for so much cheaper.
Here are the guidelines for getting a great deal:
The boots you buy must ship from Amazon.uk (not a secondary seller)
Sign up here for Amazon UK's newsletter to get a 20% off your order coupon code emailed to you
Shipping and duty fees paid at checkout.
Note sizing: in Hunter boots a UK6 is a US8, UK5 a US7, and so on for women
Here is an example of this deal in action. I purchased the Hunter Unisex-Adult Original Short Wellington Boots. Here is a breakdown of my order:
Boots: £41.62
Shipping: £9.01
Coupon Discount: -£8.32
Duty: £13.56
Total: £55.87
That translated over to exactly $88.50 on our Amazon credit card, which does not charge for foreign currency transactions. I couldn't find those boots cheaper than $140 + tax here. I scored an amazing deal!
This requires a bit of deal hunting on your part. One thing is to make sure that above the 'add to cart button' it does not say "In stock. Sold by _____" as that means it is not sold by Amazon UK. You need it to be sold by Amazon UK for it to accept the coupon discount.

Here is a good deal if you want the taller boots. Pick up these Hunter Unisex Original Tall Colours Wellington Boots in Aubergine (size UK6, US8) for £44.49. After VAT is removed and the coupon code is added that comes down to £29.66. To get them to me it would be:
Boots: £37.08
Shipping: £28.93
Coupon Discount: £7.42
Duty: £12.08
Total: £70.67
That translates over to approximately $119. Shipping for the tall boots is pretty expensive so I think you can get a better deal on the short wellies like I did. It could be cheaper for Eastern Canada though. The other great thing with this deal is it includes duty so there are no extra charges on your package. The price you pay at the end is all-inclusive.
(Expiry: unknown)