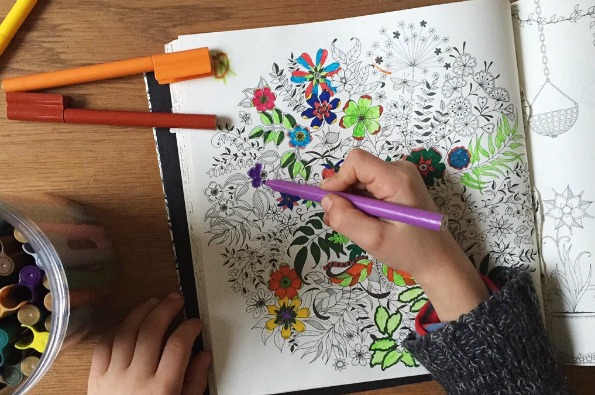 Since when does Amazon Canada have a coupon for books? Since, like, never! However, I just found a sweet coupon code to give you $5 off book orders of $50 or more. The books you buy must be sold by and shipped from Amazon Canada directly (no marketplace sellers).
Click here to shop books @ Amazon Canada now
Coupon Code: NOV50SAVE5
Discount: $5 off $50 on books
Expiry: 8th November 2015
Personally, I am enamoured with adult colouring books right now. The Official A Game of Thrones Coloring Book is still on sale from $21.95 down to $15.84. What a delightful gift this would make for that special someone. In fact, Amazon has amazing colouring books for many different fandoms. This Dr. Who: The Colouring Book was $19.99 and is now $17.79. While not a great sale price in and of itself, that extra $5 off your order will help.
Continue the British invasion with a personal favourite of mine. Sherlock: The Mind Palace: A Coloring Book Adventure was $18.50 and is now on sale for $16.46. Don't forget that Harry Potter: The Official Coloring Book #1 is also still on sale for $16.17. However, Harry Potter is a bit more orientated towards children than towards adults.
This Animorphia: An Extreme Coloring and Search Challenge is on my personal wish list. I think it may be the most incredible adult colouring book I have ever seen. Originally $16.99, it is now $12.60.
For a larger gift, I cannot recommend The Complete Calvin and Hobbes in softcover enough. These four books provide positively hours and hours of amazing entertainment. Originally $100 and on sale for $64.57, this book collection comes down to $59.57 after coupon.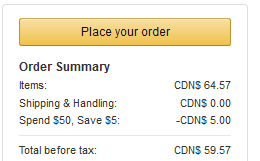 By the way, someone royally screwed up when promoting this offer. According to Amazon Canada's own website,
You'll save an extra 5% on Books purchased from Amazon.ca, now through November 8th, 2015. Use the claim code NOV50SAVE5 at checkout. Enter code NOV50SAVE5 at checkout. Here's how (restrictions apply)
However, I have tested this coupon extensively and it actually is $5 off $50 on books (as you can see above). It doesn't work on anything else and it does not work on book orders less than $50 and it does not take 5% off... it takes $5 off (equivalent of 10%). Someone coded something wrong.
I am stoked about this as I cannot recall the last time that Amazon Canada had a coupon code valid on books. In fact, I don't think they ever have. Shop now while it lasts!