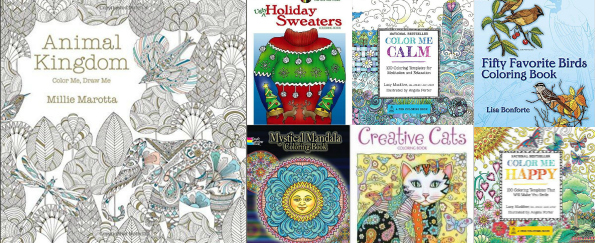 I am having a wee-little heart attack right now because I JUST bought myself an adult colouring book (on Thursday) and TODAY Amazon Canada is offering up to 50% off adult colouring books! I guess I will be buying a few more. Receive free shipping on any order if you are an amazon Prime member or free shipping on orders of $25.
I want to buy THEM ALL! OMG, they are so gorgeous it is hard to choose just one! If I had to choose just one, then I would pick up Animal Kingdom: Color Me, Draw Me on sale from $16.95 down to $8.48. This is from bestselling colouring book from Millie Marotta who makes some of the most beautiful and intricate designs. Her book Tropical World: A Coloring Book Adventure is also on sale for the same price. This time you get to colour in animals: big ones and small ones. At 50% off its original price, this book is a must have for yourself or for Christmas gifts. The same book is $16.09 at Chapters.
Are you looking for peace of mind? Pick up Color Me Calm: 100 Coloring Templates for Meditation and Relaxation on sale from $18.99 down to $11.39. I like the art in this book and how you have a collage of different elements so you will never be bored. Color Me Happy: 100 Coloring Templates That Will Make You Smile is another book in this series and it is on sale for the same price. I would love to buy both of these books as they would be the same size and look great together on my bookshelf.
Do we have any cat lovers here? I am a cat-lover myself and have my own delightful furball. If you live and breathe cats, then pick up Creative Haven Creative Cats Coloring Book on sale from $8 down to $5.60. It is affordable and fun.
Christmas is coming and you can colour your way to holiday bliss. There are a few fun holiday-themed colouring books including Creative Haven Christmas Trees Coloring Book and Creative Haven Ugly Holiday Sweaters Coloring Book both on sale from $8 down to $5.60 each.
I am delighted by this sale and will need to limit myself to one... or maybe three books. Which colouring books are you going to buy?
(Expiry: 23rd November 2015)