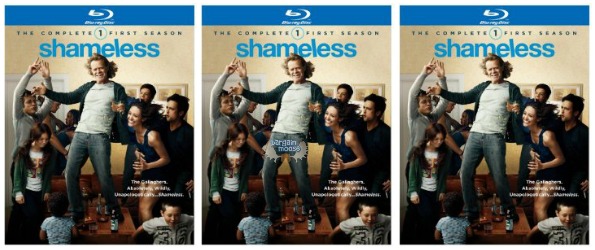 For only $19.99, you can get a Blu-Ray copy of seasons one and two of Shameless. The regular price for this item is $62.48.
I'm excited to blog this deal, as although I can't get it because I don't have anything to play Blu-Rays on, I absolutely love this show. If you've never seen it, now is your chance to get in a Shameless marathon and pick up the first two seasons very inexpensively.
Shameless is a show that was first started in the U.K., and I believe it is still going there. It did so well they made a U.S. version, which is quite behind the U.K. version. The Gallaghers are a family living in the hood in Chicago with addict parents and six kids. The oldest siblings are doing their best to raise and feed the younger ones, all the while dealing with all of the crap that goes on around addiction, poverty and growing up. It sounds like a sad show, but it is so funny that I guess you'd call it dark humour.
It has some really great actors/actresses in it like William H. Macy and Joan Cusack, but you'll really love the lesser-know characters. My favourite is Lip, who is really cute in a disheveled sort of way.
Shipping won't be free unless you spend another $5, so you might as well pick yourself out something else nice.
(Expiry: Unknown)