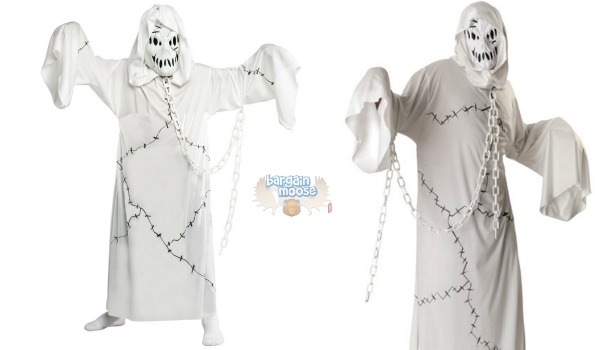 I got two out of three costumes for my kids on the weekend and my oldest has told me he wants to be something really spooky for Halloween. I found this Cool Ghoul on Amazon and it is a fantastic price! Regularly $23.99, it is on sale for $14.58. Rubies Costume Co. is selling this costume, which is a quality brand that we've blogged about a number of times.
Included with this costume is a white hooded robe, a scary ghoul mask and a chain. I like that this costume fits the scariness factor, but also that is a bright white, which means drivers will be able to see him in the dark, unlike my youngest's pure black Batman costume. I also like that this costume was $5 cheaper then his brother's costumes.
Only the size medium is on sale, which says it fits a 50-inch tall child with a 27-inch waist. Since it is not tight in the waist, that is quite large for a child's waist. My oldest is about 50 inches, but I think a taller kid could fit in this as well. This size would fit a kid sized 8 to 10, which is perfect for us.
I read over the reviews so you don't have to and the two complaints were that the mask was hard to see out of and that the material is really thin on the body. I find all masks are hard to see out of and recently when I saw a My Little Pony vintage costume on Etsy, it reminded me of those claustrophobic days of trick or treating. I find the kids take off all masks at some point over the night, no matter what you paid for the costume. As for the thin fabric, I think they are all thin too! But, what I love about this costume is that you can layer quite a bit under it and no one will ever know. It is annoying wearing a jacket over your beautiful costume, so that is a perk.
Shipping is free if you have Amazon Prime, but you if don't (why not?) then you'll have to get your other kid a costume and spend $25 to get them both shipped for free.
(Expiry: Unknown)