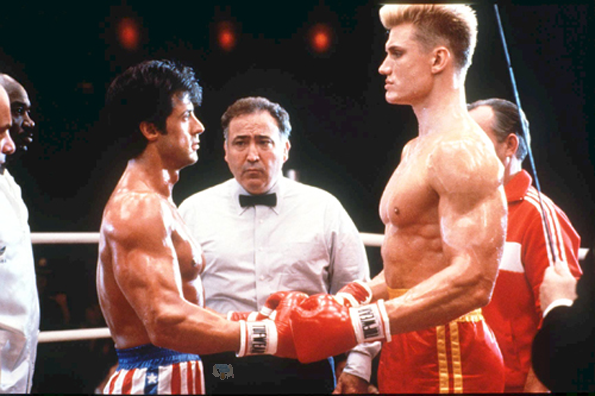 Yo, Adrian, I did it - I found a great deal! The countdown to Black Friday continues on Amazon, since they currently have a really appealing discount on their Rocky Heavyweight Collection on Blu-Ray today, and it's sure to make any fans of these action-packed Sylvestor Stallone classics very happy - especially if it's a gift during the holiday season! This set of Rocky movies normally sells for $69.99, but you can now purchase the Rocky Heavyweight Collection on Blu-Ray for just $20.49 (plus $1.99 shipping). If you spend a minimum of $25 on Amazon, you'll qualify for free shipping. Quantities are limited, so you'll want to act fast and get this set as soon as you can!
The Rocky Heavyweight Collection on Blu-Ray is quite the set - it includes all 6 Rocky movies on Blu-Ray, and an extra disc that's packed with special features. So you're getting 7 Blu-Ray discs in total for $20.49! Plus, how could you not love the Rocky movies? Sure, many may think that they're cheesy, but some entries in this series are really good - especially the first Rocky and Rocky Balboa (the 6th movie that was released in 2006).
Personally, even though most people that didn't view it as a child won't enjoy it as much as those who did, I really loved Rocky III (they loved using Roman numerals to promote the Rocky movies). With Mr. T playing Clubber Lang and Hulk Hogan making an appearance as Thunderlips, it was a really fun action movie to watch! It was actually the first Rocky movie I've ever watched, and I still love the elaborate boxing scenes in that movie.
This Rocky Heavyweight Collection on Blu-Ray is currently on sale at WalMart for $30. I've included a brief review of this set from a satisfied Amazon customer below:
Excellent box set - love the movies, and love the packaging. I would suggest this box set as a gift any day.
If you want to pick up a great gift that's affordable and fun, then you should consider getting this set. You can check out the other Amazon Black Friday deals by clicking here. Check out our Black Friday dashboard to see other deals as they arrive! Happy hunting, Bargainmoosers!
(Expiry: 12th November 2014)