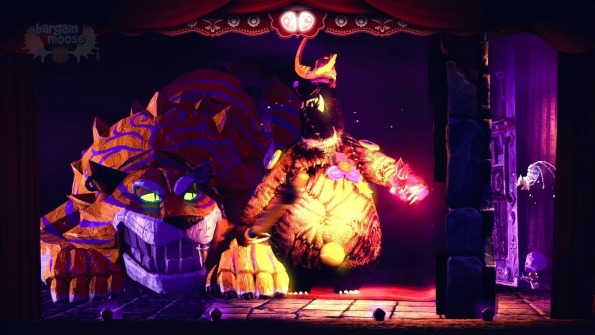 Amazon Canada just dropped the price on this beautifully animated Puppeteer game for the Playstation 3. The game was $35.38, but is now on sale for just $9.99.
This game is for everyone who likes dark fairy-tales and puppets. PSN gives a quick rundown on the game's theme:
Set in a magical puppeteer's theatre, this title will introduce you to a strange and fantastic world, where the environment is constantly changing. Players will enjoy a rich, dark fairytale where surprises lurk around every corner.
You play a boy - Kutaro - who was stolen away to a magical land and then turned into a puppet. he displeased the tyrant of the land so much that the tyrant ate the body's head and threw away his body. Now, with the help of a magical pair of scissors, you can help the headless Kutaro along on his adventures to find his head.
The game has some really interesting features including swappable heads! You can change your head anytime you want within the game. If you lose your head, then you lose a life. This game is pretty unique in platforming, stages, and theatrical storytelling. You use a pair of scissors to cut, chop, and crop your way through the adventures. The sets are incredibly rich, as befitting a theatre and the colours are rich.
There are only two ratings on Amazon.ca - and they are polar opposites. However, the PSN has far more ratings for the game. With 2892 ratings, the game rates a perfect 5/5 stars. Also, I price compared against the PlayStation Store. There, the game costs $39.99 just to download. I could not find this game anywhere else in Canada. When i found the game in the USA, it retailed for more than $10, I can assure you!
I think this game is beautiful just to look at and I am sure it will be visually gorgeous to play as well. With a perfect 5/5 star rating on PSN, this game is probably a hidden gem just waiting to be found and loved. Puppeteer is unique among games today and I hope it finds a home on your game shelf. At this price, it is certainly worth trying.
Receive free shipping on orders of $25 or more. Shipping costs around $5 for orders under the minimum.
(Expiry: Unknown)